Hurricane Harvey is currently devastating southeastern Texas, including the city of Houston. Disastrous flooding, winds gusting up to 95 km/h, and even tornadoes have already caused billions of dollars in property damage, and have reportedly claimed at least 9 lives. Since Harvey made landfall at Rockport, Texas, in the early hours of August 26th, the Internet has become inundated with harrowing photos and stories from affected areas — stories of tragedy, rescue, community and generosity. We're bringing you the ones that are making headlines, and stirring hearts, worldwide.
If you would like to help the victims of Hurricane Harvey, Houston mayor Sylvester Turner has set up an emergency relief fund which can be found here.
Scroll down the see the storm that is being called «the worst disaster in Texas history» for yourself. Our thoughts are with all those touched by this event.
#1 A Dog Named Otis Is Walking Around Sinton Tx Carrying A Entire Bag Of Dog Food With Him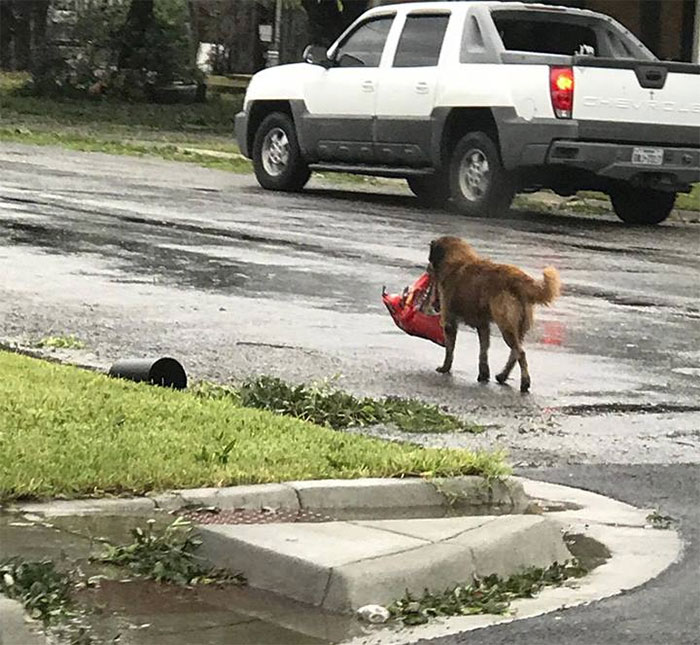 #2 A Furniture Store In Texas Is Providing Shelter And Food For Hurricane Victims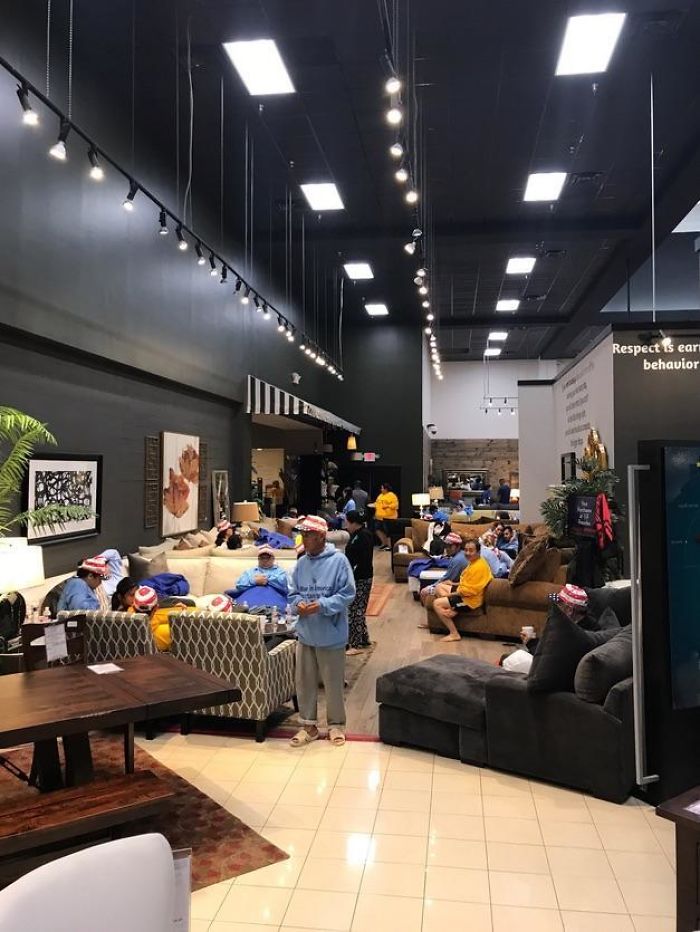 #3 This Policeman Worked Countless Hours Helping Victims Of Hurricane Harvey Until He Passed Out From Exhaustion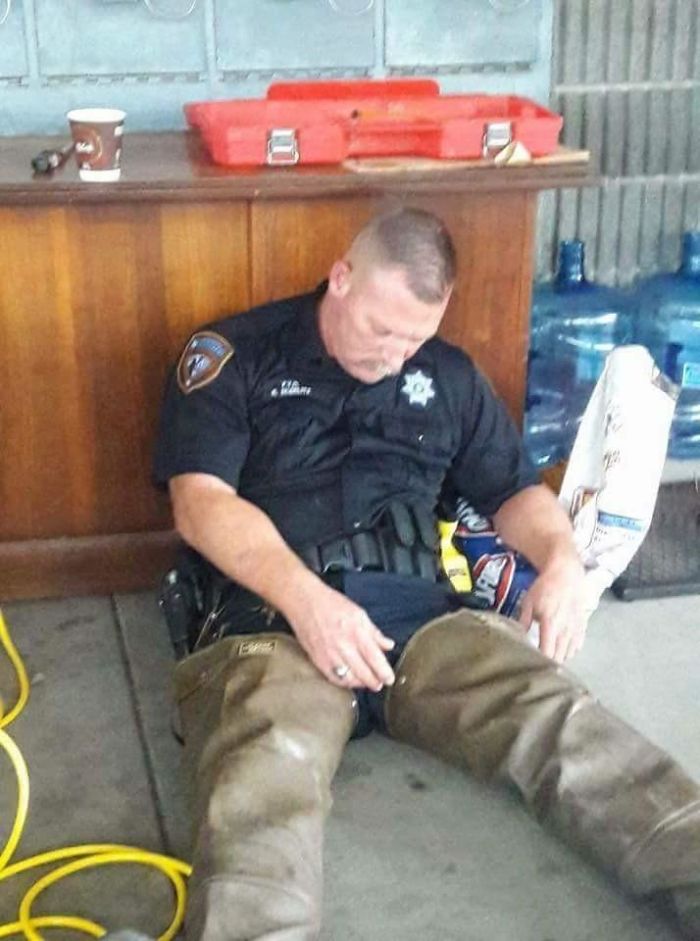 #4 Dog Hanging On During Houston Flooding. She Was Rescued!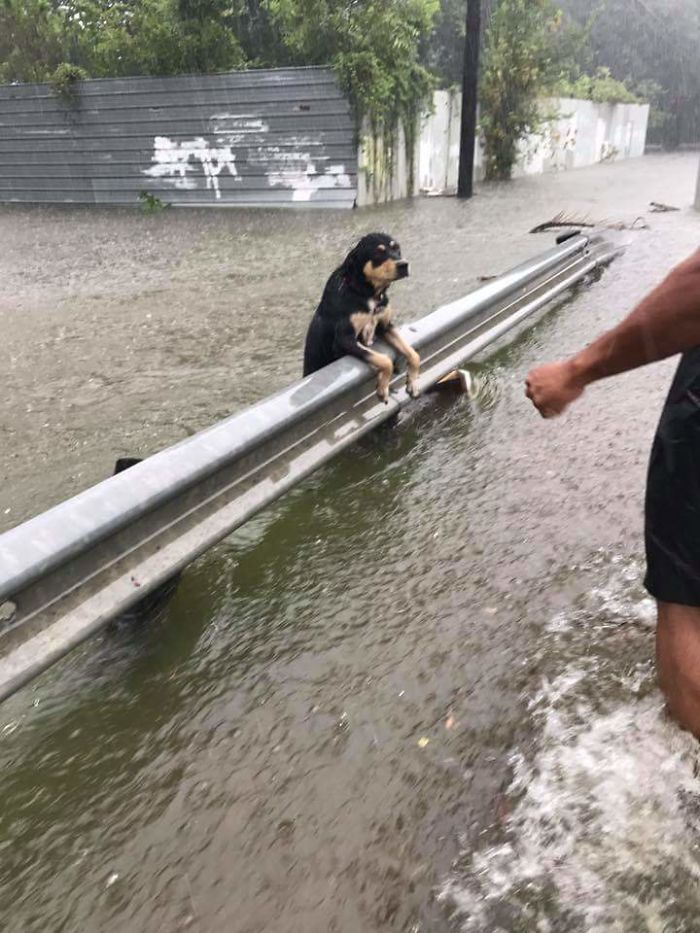 #5 Texans Refuse To Leave Pets Behind As They Flee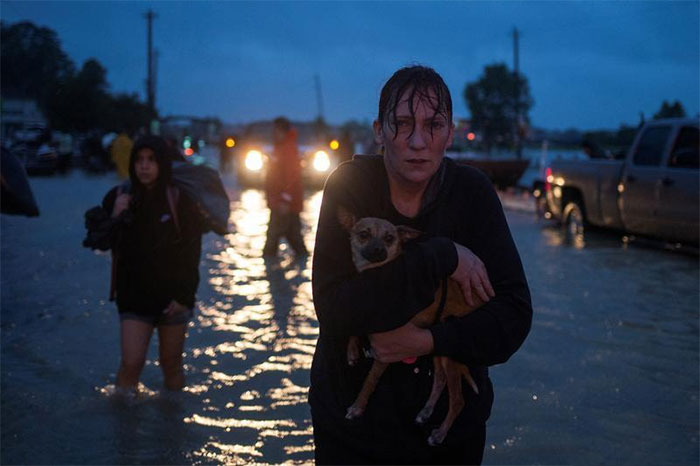 #6 Joe Garcia Carries His Dog Heidi From His Flooded Home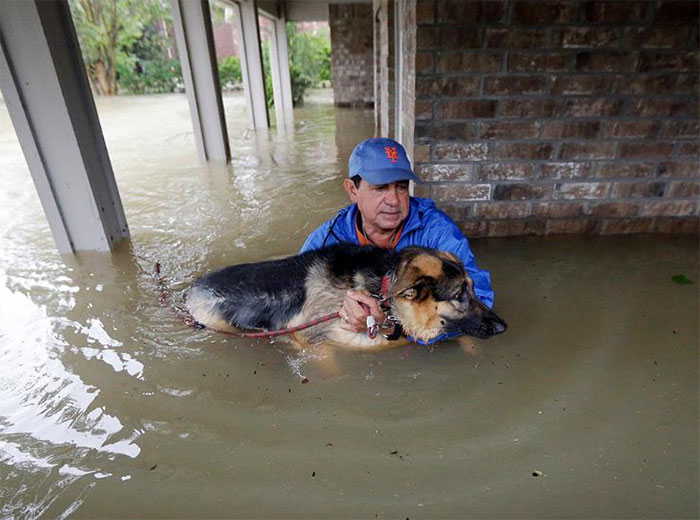 #7 Floater Baby — Mother Who Was Waiting For Rescue During The Hurricane Shared A Picture Of Her Baby Floating In A Large Plastic Container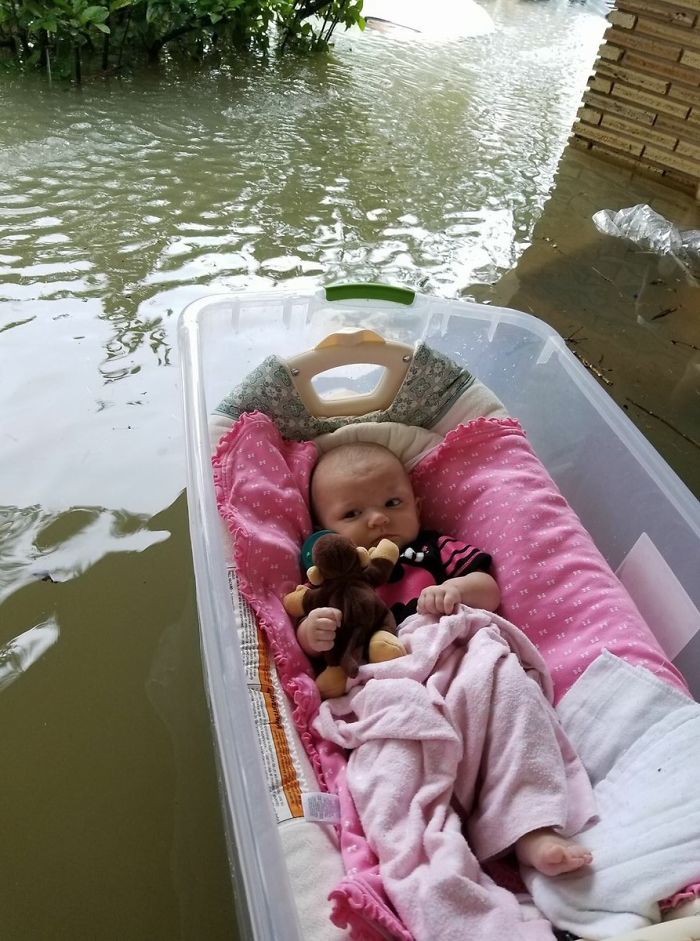 #8 This Is Houston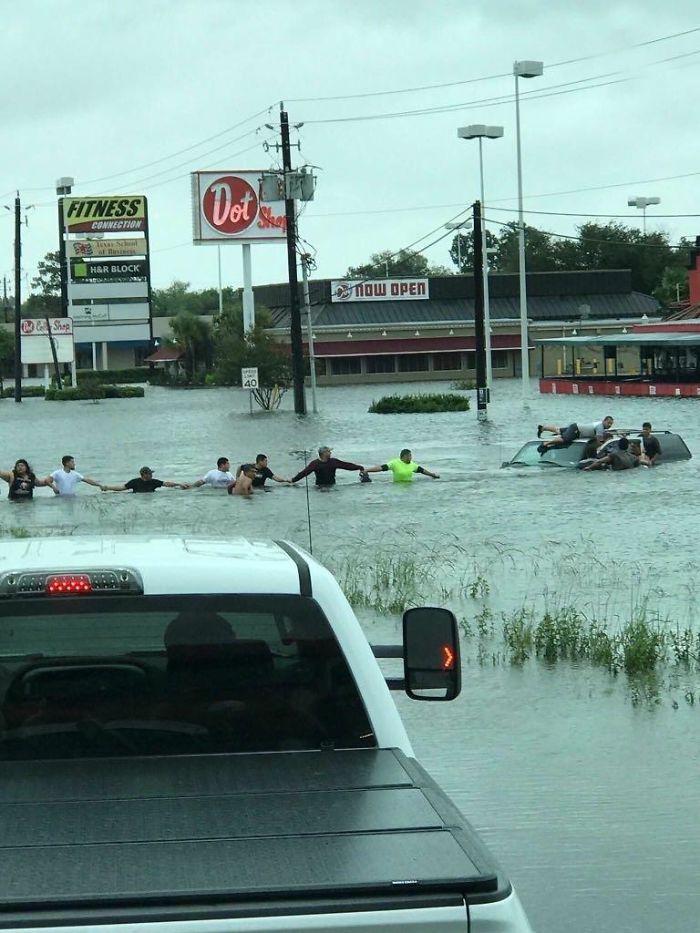 #9 America 2017 In One Picture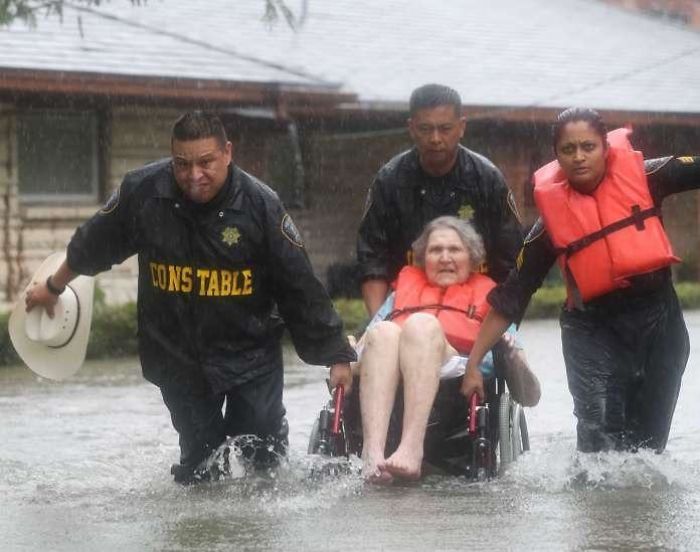 #10 My Friends Out Rescuing People And Pets In Houston Today And Taking A Break For Donuts. Closed Unfortunately. Good People!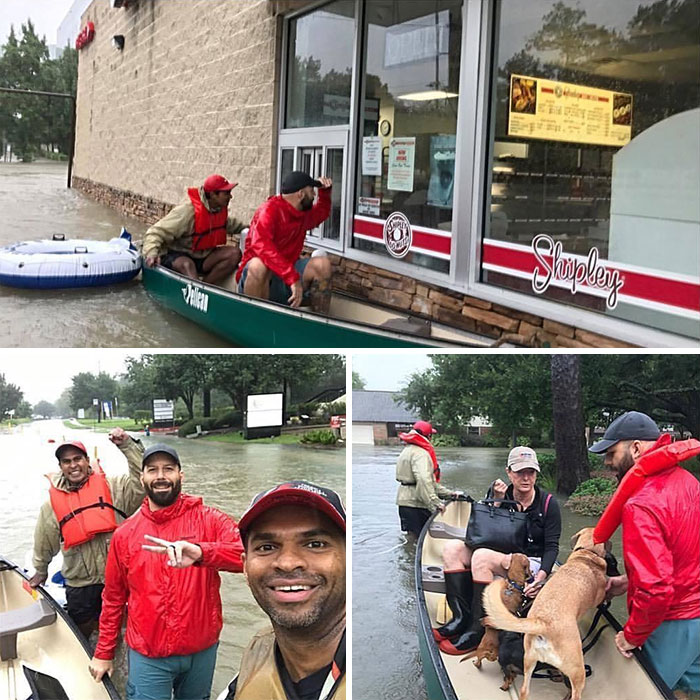 #11 Getting Home After A 49,5 Hour Shift Working Hurricane Harvey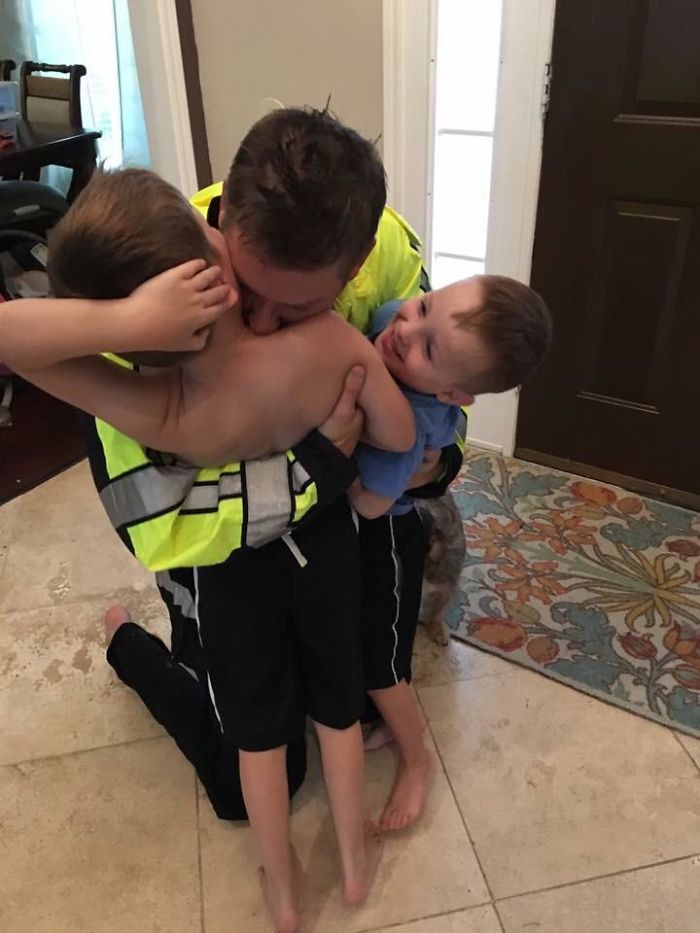 #12 A Rescue Helicopter Hovers In The Background As An Elderly Woman And Her Poodle Use An Air Mattress To Float Above Flood Waters From Tropical Storm Harvey While Waiting To Be Rescued From Scarsdale Boulevard In Houston, Texas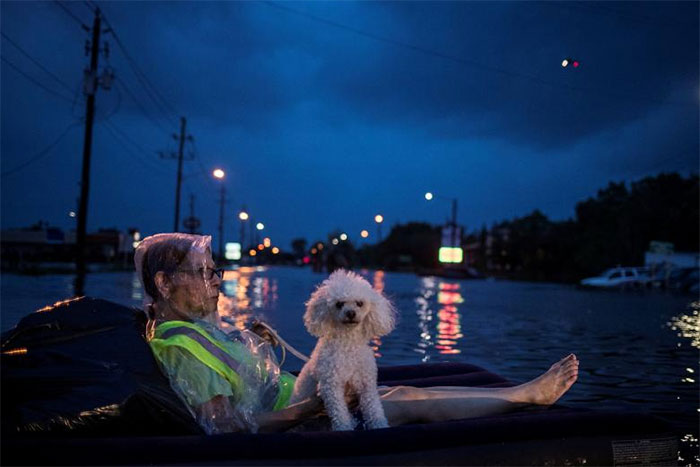 #13 Steve Culver Cries With His Dog Otis As He Talks About What He Said Was The, ' Most Terrifying Event In His Life,' When Hurricane Harvey Blew In And Destroyed Most Of His Home While He And His Wife Took Shelter There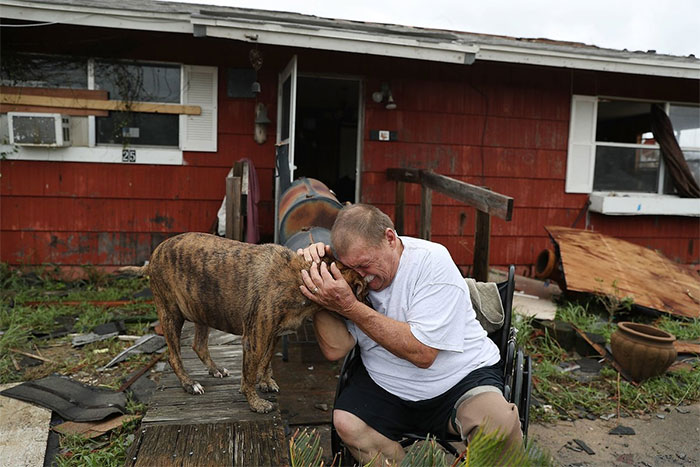 #14 Isiah Courtney Carries His Dog Bruce Through Flood Waters In Beaumont Place, Houston, Texas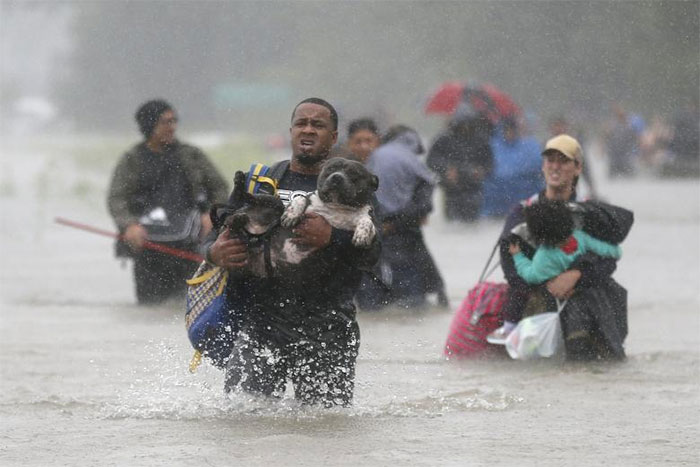 #15 Alexendre Jorge Evacuates Ethan Colman, 4, From A Neighborhood Inundated By Floodwaters From Tropical Storm Harvey On Monday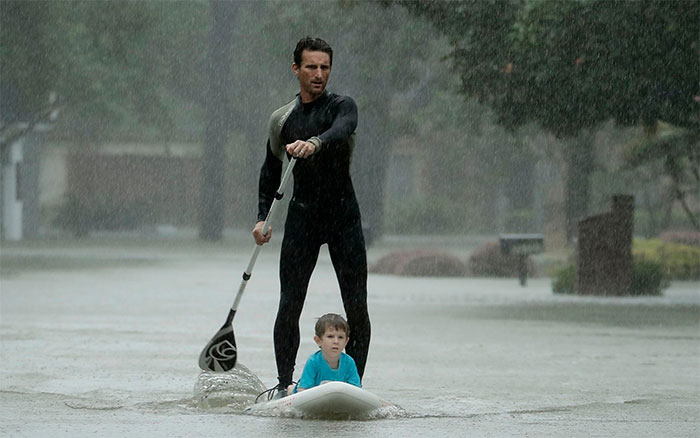 #16 Harris County Sheriff's Office Deputy Carries Two Children To Safety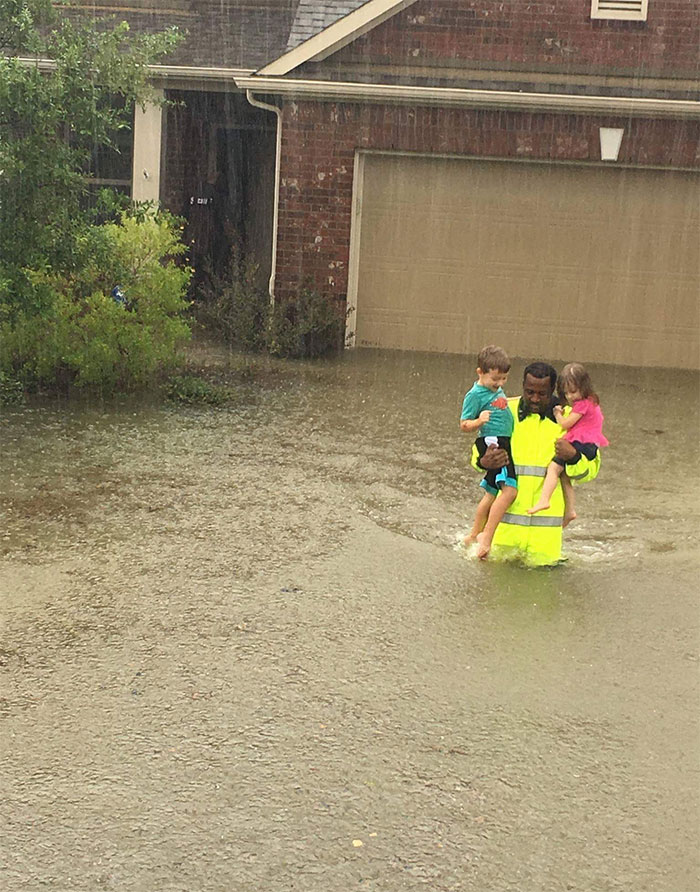 #17 Texans Refuse To Leave Pets Behind As They Flee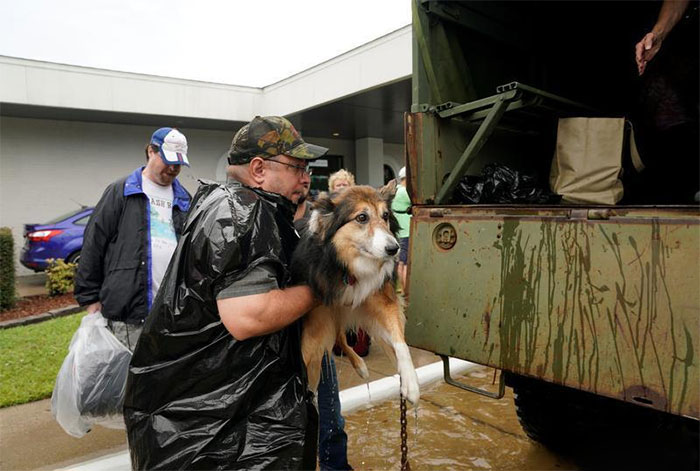 #18 Houston Police SWAT Officer Daryl Hudeck Carries Catherine Pham And Her 13-Month-Old Son Aiden After Rescuing Them From Their Home Surrounded By Floodwaters From Tropical Storm Harvey In Huston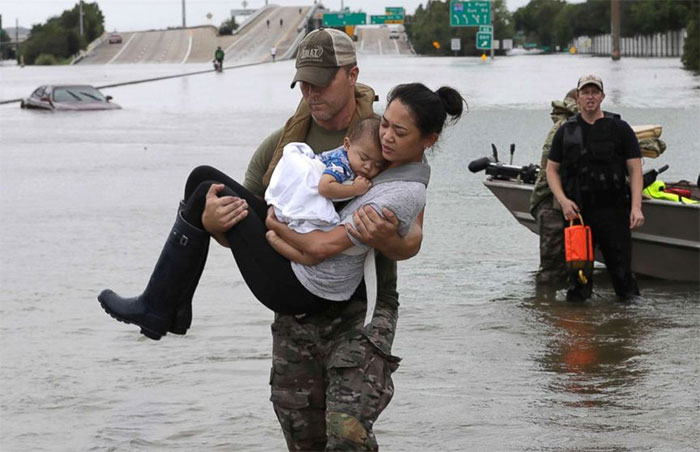 #19 Seniors In La Vita Bella Nursing Home In Dickinson Texas Waiting To Be Rescued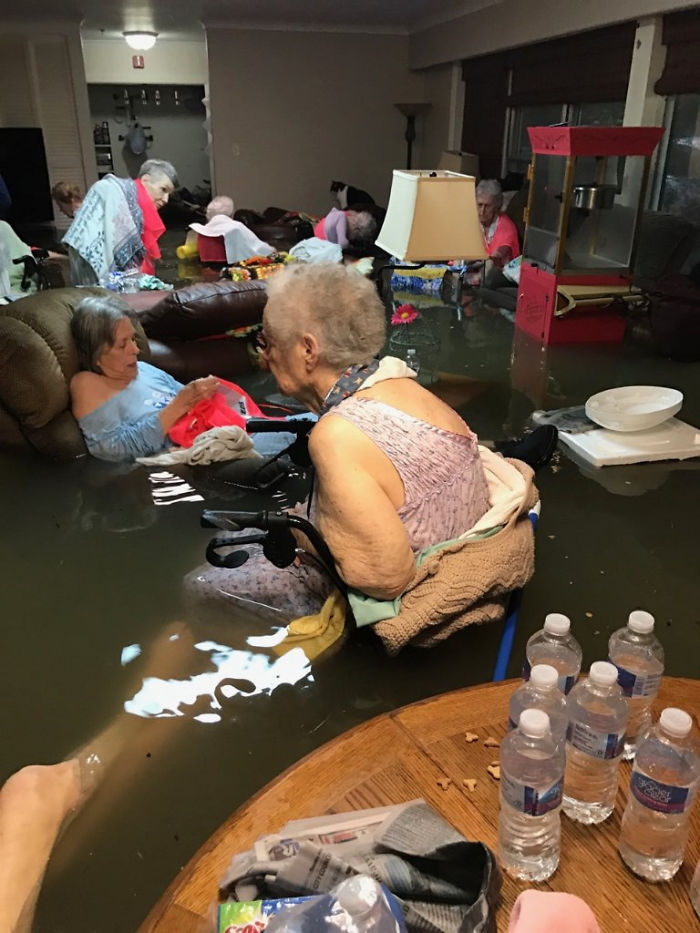 #20 Doggo Keeps An Eye Out On The Flood. Been Stuck At Home Surrounded By Water For 2 Days Now In Friendswood Texas
Doggo Keeps An Eye Out On The Flood. Been Stuck At Home Surrounded By Water For 2 Days Now In Friendswood Texas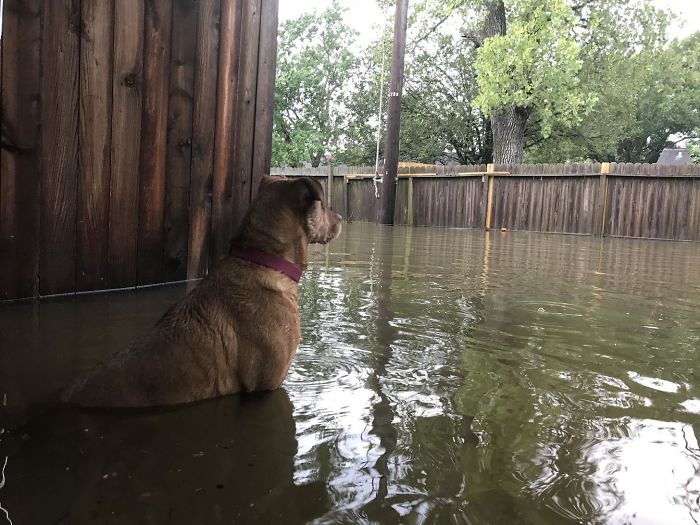 #21 Intersection Along San Houston Pkwy. In Houston, Water About 17 Feet Deep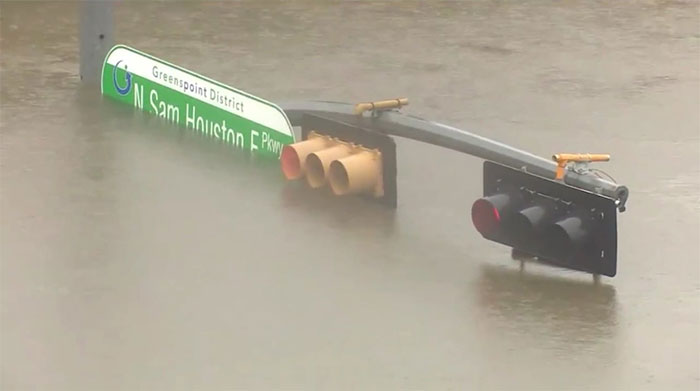 #22 Sam Speights Tries To Hold Back Tears While Holding His Dogs And Surveying The Damage To His Home In The Wake Of Hurricane Harvey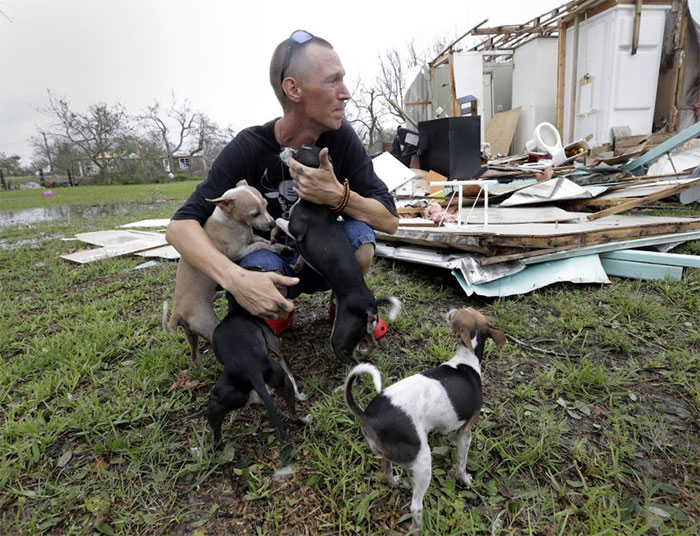 #23 Shardea Harrison Looks At Her 3-week-old Baby, Sarai, As Dean Mize, Right, And Jason Legnon Use An Airboat To Rescue Them From Their Home In Houston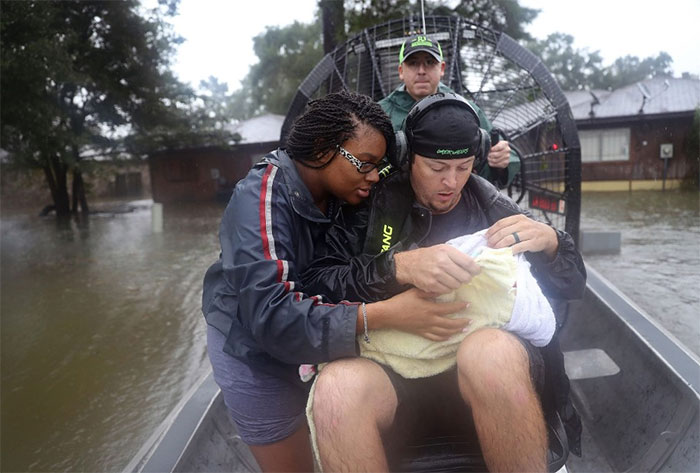 #24 People Make Their Way Down Partially Flooded Roads In Galveston, Texas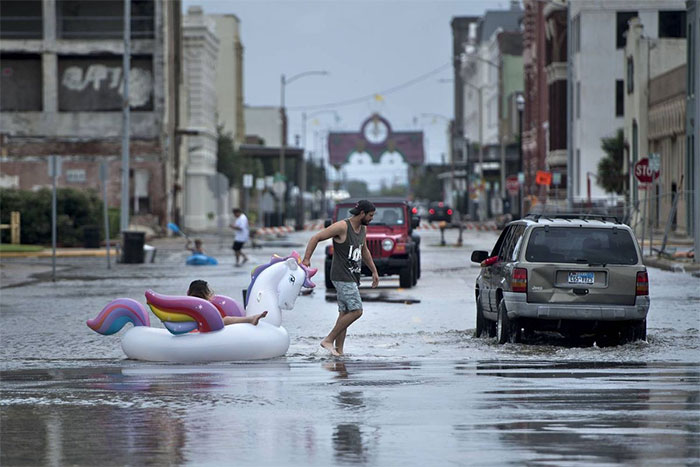 #25 Hurricane Harvey Is Pictured Off The Coast Of Texas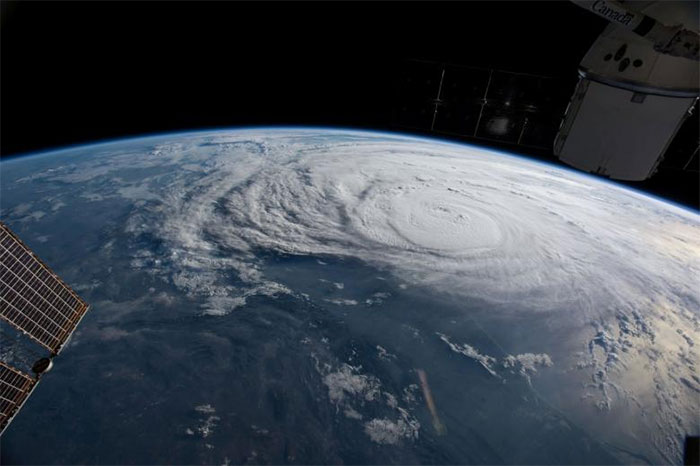 #26 When U Flooded,and Don't Wanna Get Electrocuted, But Hopeful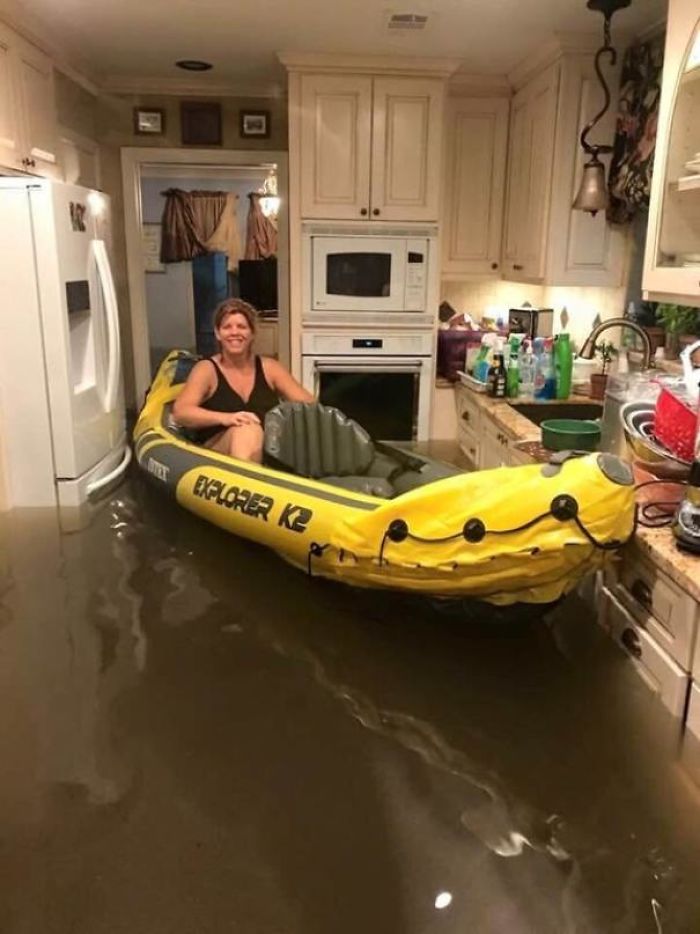 #27 Lisa Rehr Holds Her Four-Year Old Son Maximus, After They Lost Their Home To Hurricane Harvey, As They Await To Be Evacuated With Their Belongings From Rockport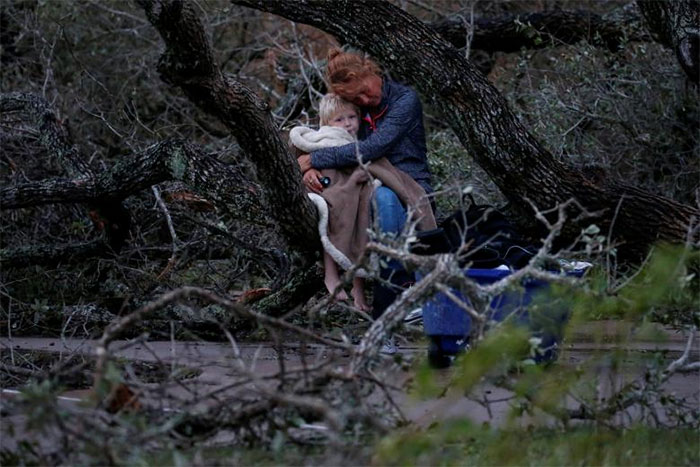 #28 Man Sits On Bench With His Dog During Hurricane Harvey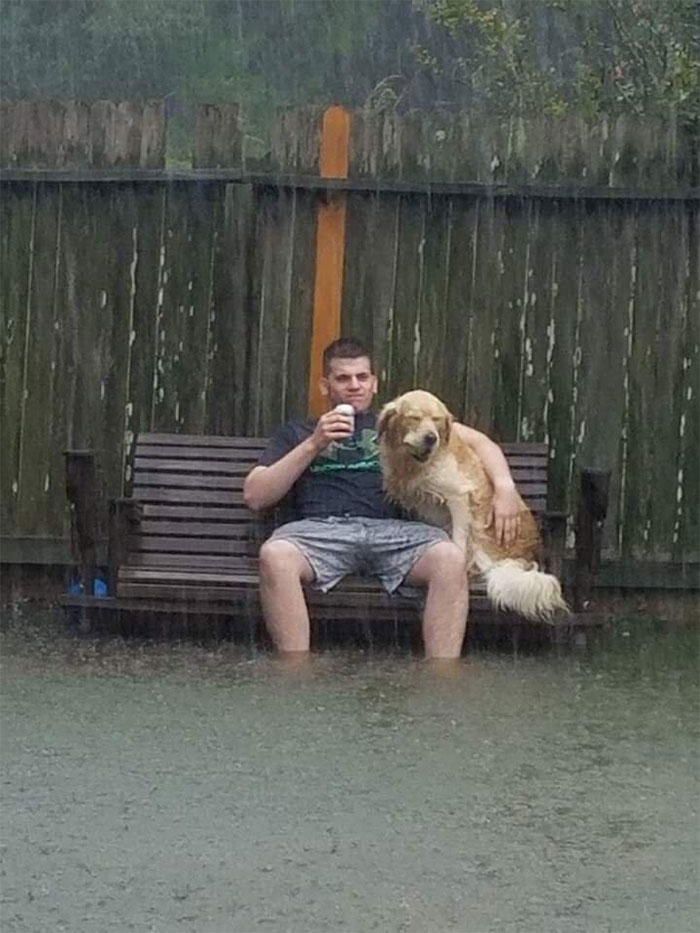 #29 24 Hour Difference In Houston From Harvey 2017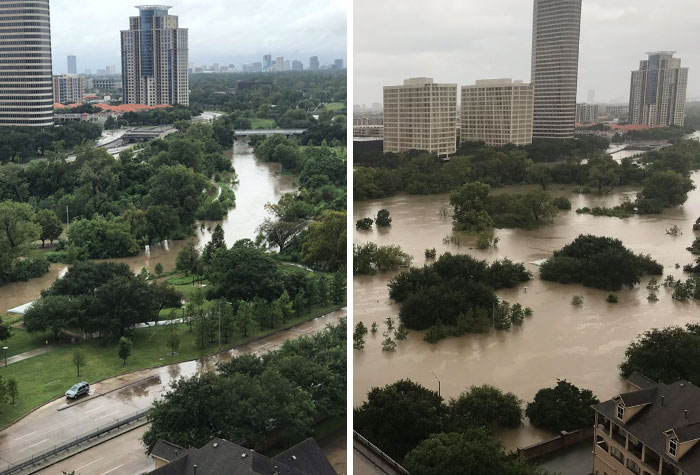 #30 Jesus Rodriguez Rescues Gloria Garcia After Rain Flooded Pearland, In The Outskirts Of Houston