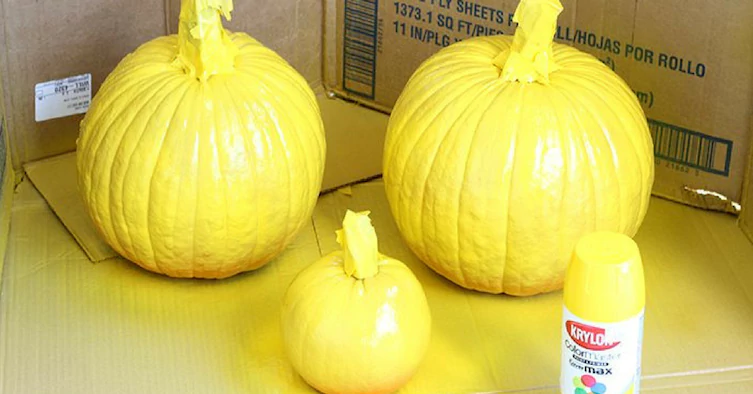 I love decorating my house for fall. I love the colors, the decor — but most of all, I love pumpkins! However, for the last couple of years, I have put away my carving knife. There are so many cool ways to decorate a pumpkin without even making a slice!
Take a look at these ideas and then share this with a friend who loves pumpkin season!
1. Sheer Pumpkins
Wrap your pumpkins in a bit of sheer fabric for this chic look. Top them off with a bit of pretty ribbon and you're good to go!
You can paint the pumpkin first, if you like.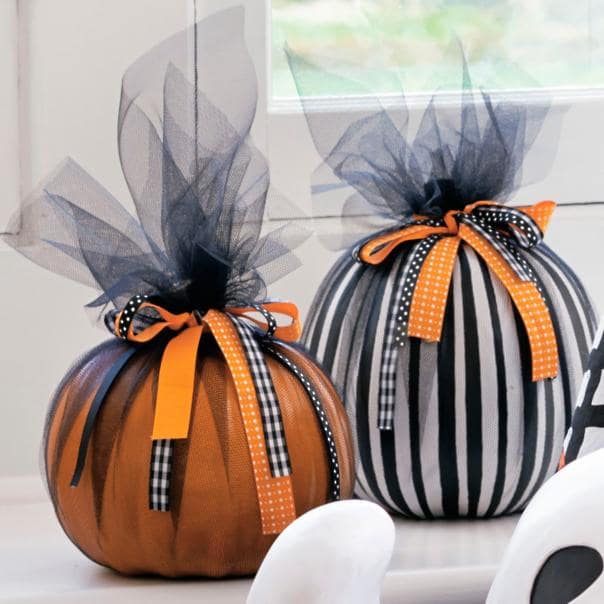 2. Glow-In-The-Dark Pumpkins
Add a little glow to your porch this Halloween by spray painting your pumpkins with glow-in-the-dark spray paint.
You can create whatever designs you like in order to make your pumpkins more unique.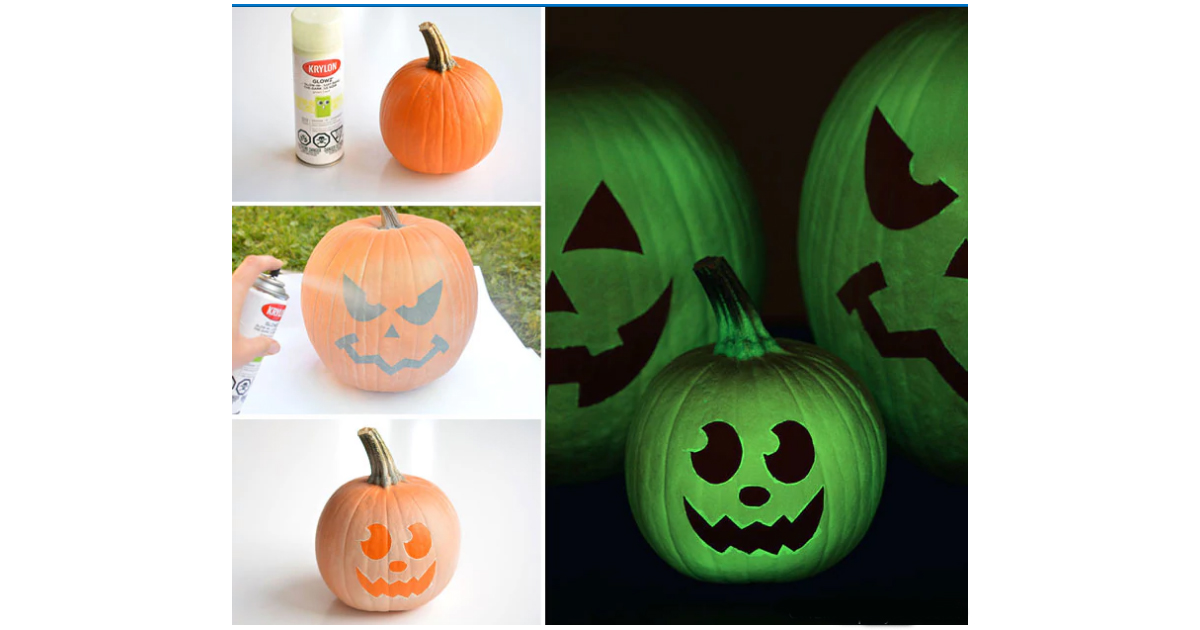 3. Pun-kins
Have a little fun and make people chuckle when they visit your home. These pumpkins aren't just any ordinary pumpkins — they're pun-kins.
All you need to make these are some letter stickers and a bit of paint.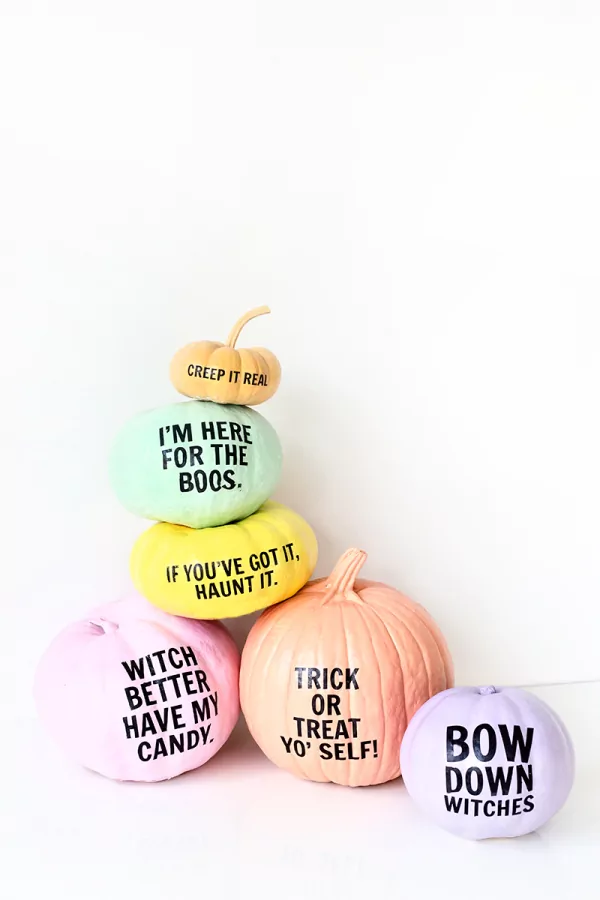 4. Woodland Creatures
These pumpkins are just too cute! Made with a bit of felt and some paint, these little woodland creature pumpkins are an adorable addition to any porch!
I'll be making the raccoon for sure!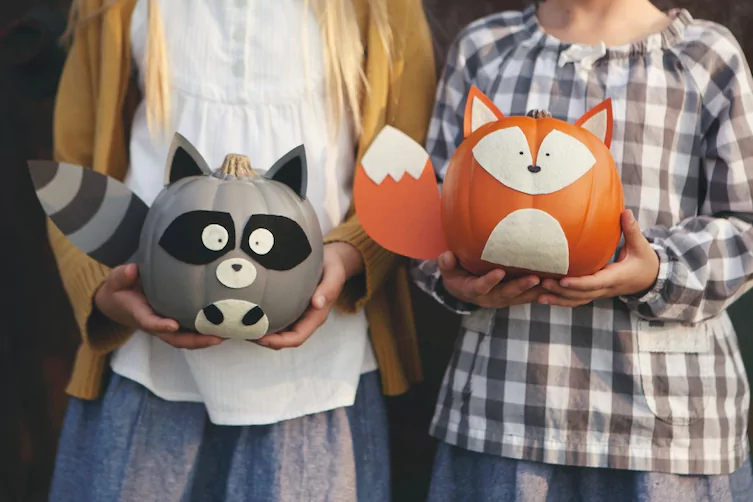 5. Melted Crayon Pumpkin
This is an easy but messy one — who doesn't love to get a little messy now and then, though?
A great DIY to do with the kids, too. They will love watching the crayons melt.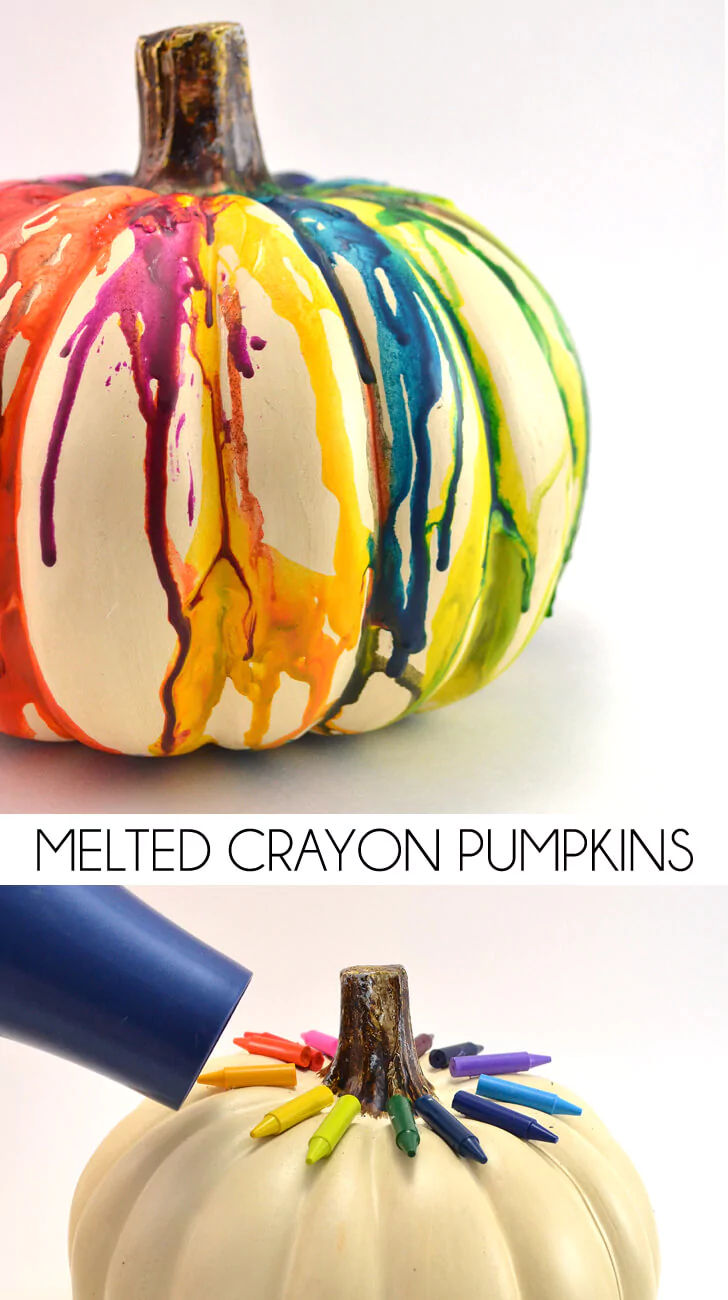 6. Glitter Pumpkin Topiary
Add a little sparkle to your fall front porch display. You can make this with faux or real pumpkins. Head to your local craft store to pick up some wood letters, a bit of glue and a ton of glitter.
You could use glitter spray paint, too.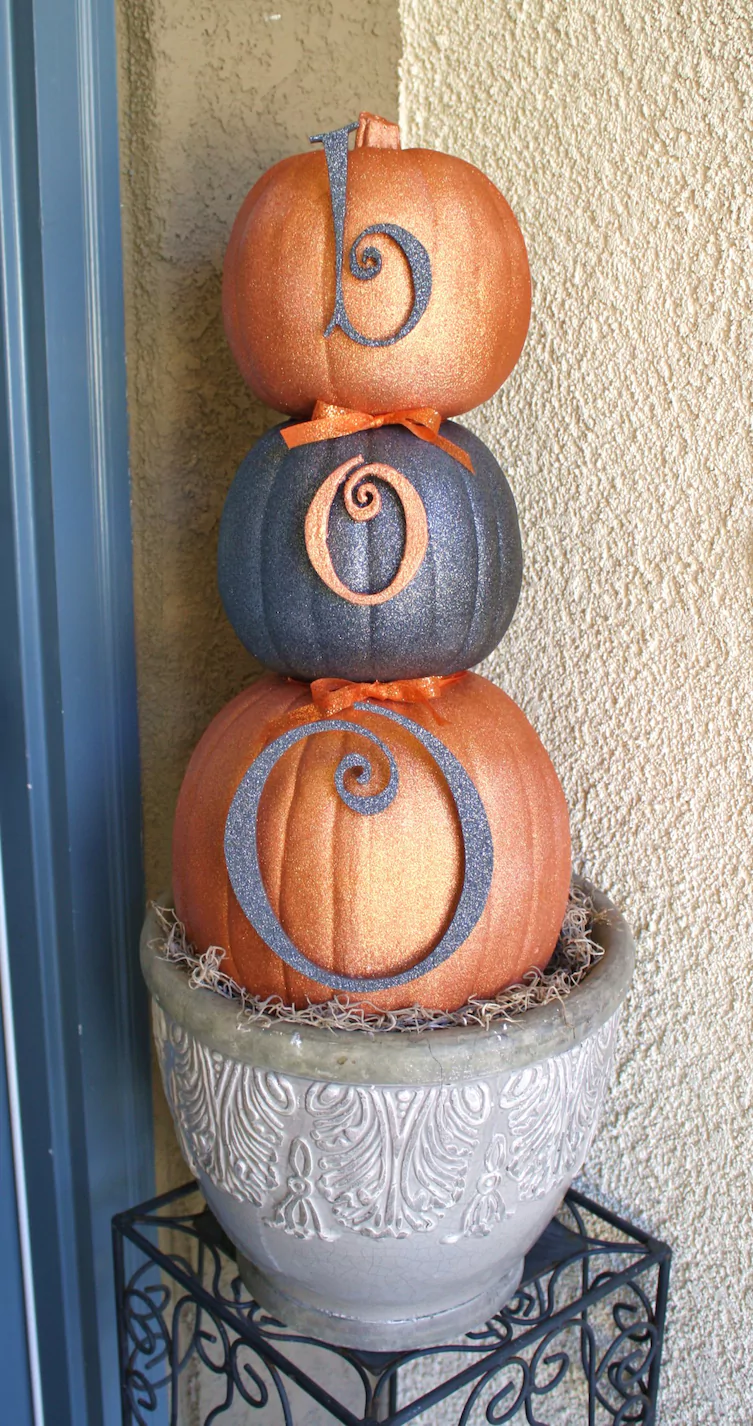 7. Thankful Pumpkin
I am gonna remember this one for Thanksgiving — such a great idea!
Put this in the middle of your Thanksgiving table and not only will you have a unique centerpiece, but also a place for people to share just how grateful they are.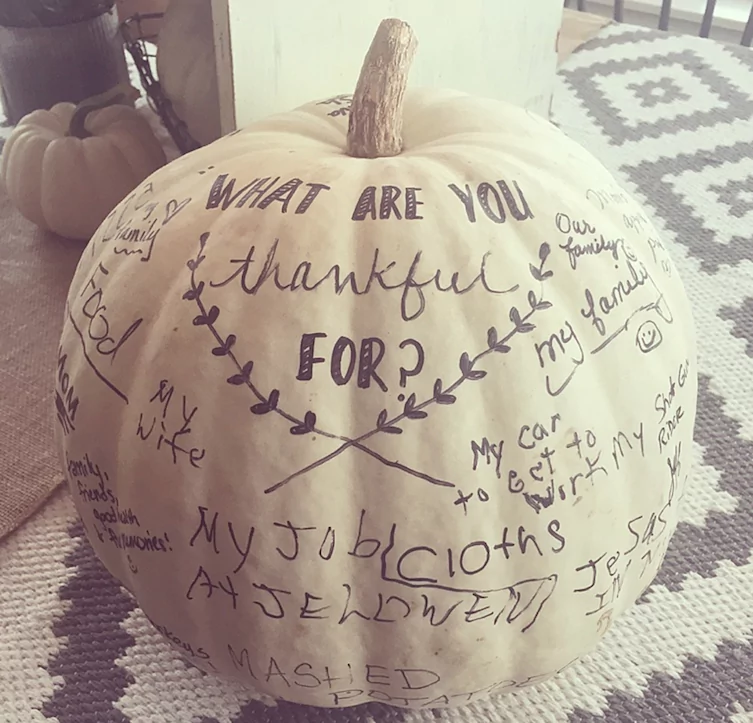 8. Menu Pumpkin
Paint a pumpkin with chalkboard paint and you now have a place to write whatever you want. I like this idea to use it as a menu, but I also think it would look cute out on the porch with a spooky message for Halloween.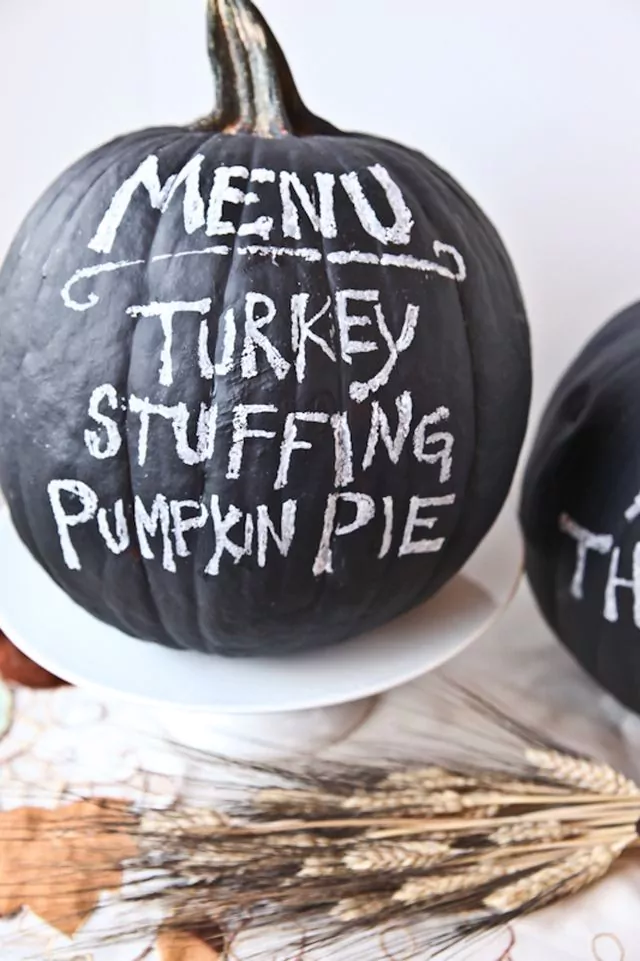 9. Sequin Pumpkins
I just love white pumpkins — but what's better than a white pumpkin? A white pumpkin that is far from basic. Deck out your pumpkin with a few gold sequins!
Here is an idea for a pattern to get you started.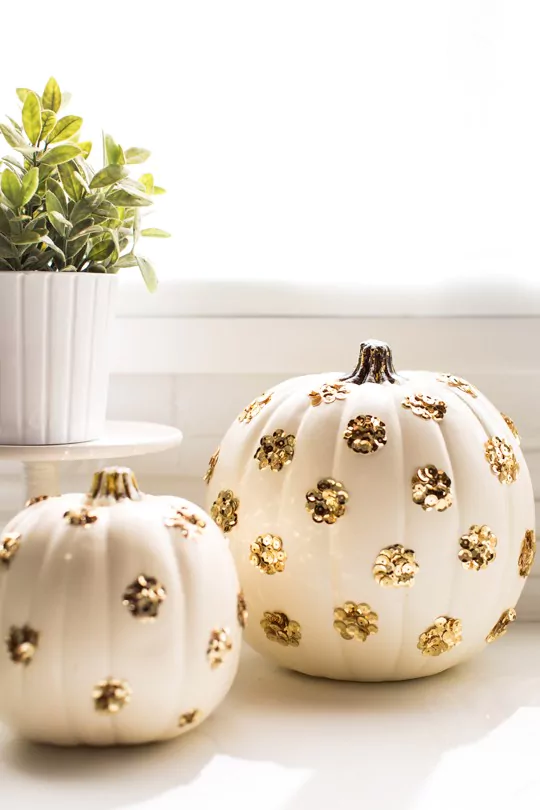 10. Rustic Chalk Painted Pumpkin
This DIYer used hot glue and chalk paint to create this rustic pumpkin. I love the dry brushing technique that was used here.
Looks like I'll be using my hot glue gun this fall!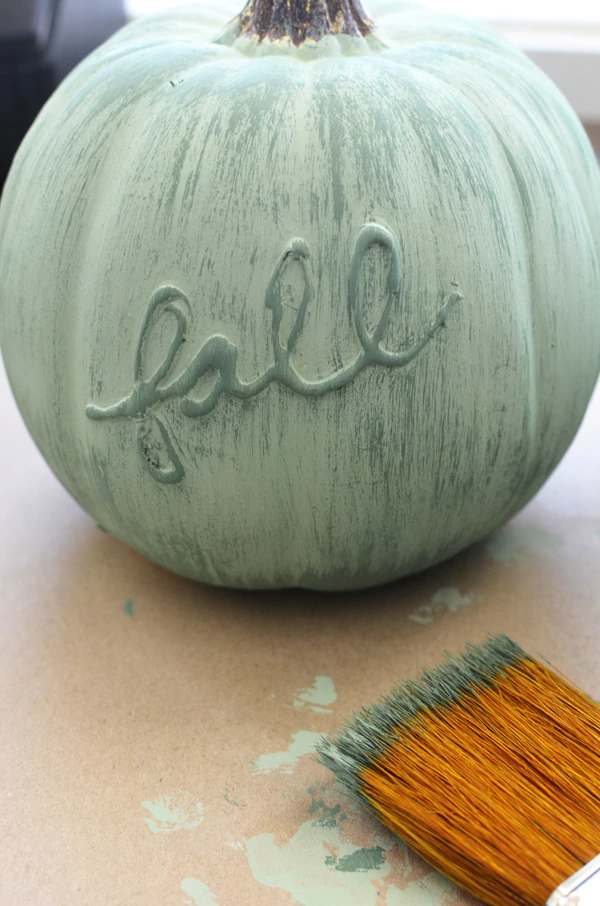 11. Watercolor Pumpkins
Who says that fall has to be all about orange, yellow, and red? This fall, do something totally crazy and use a watercolor effect to paint your pumpkins.
While this isn't the traditional fall look, you can't deny that it's super pretty.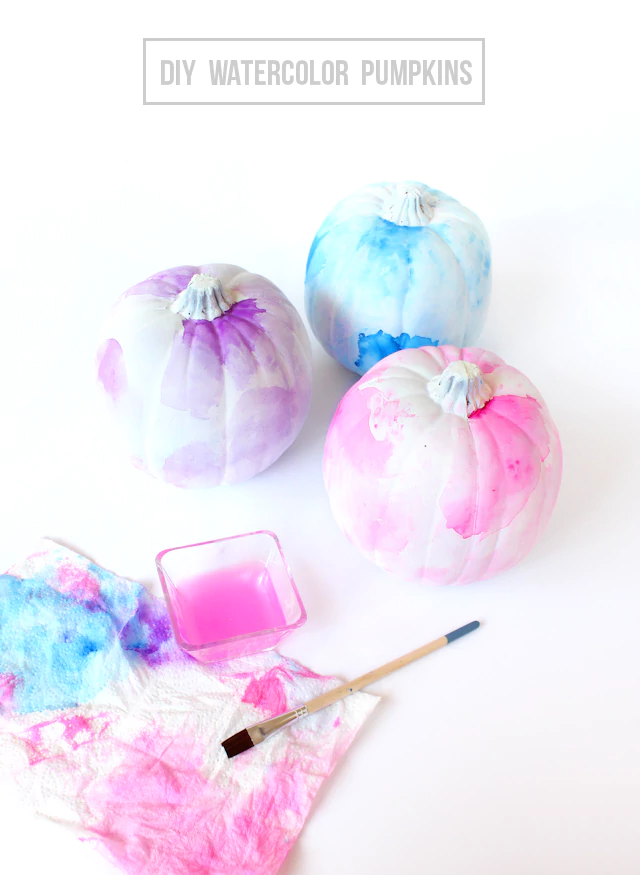 12. Modern Metallic Pumpkins
If the watercolor look isn't your thing but you're still after something a little less traditional, consider making these modern metallic pumpkins.
I love the copper paint dripping over the gray.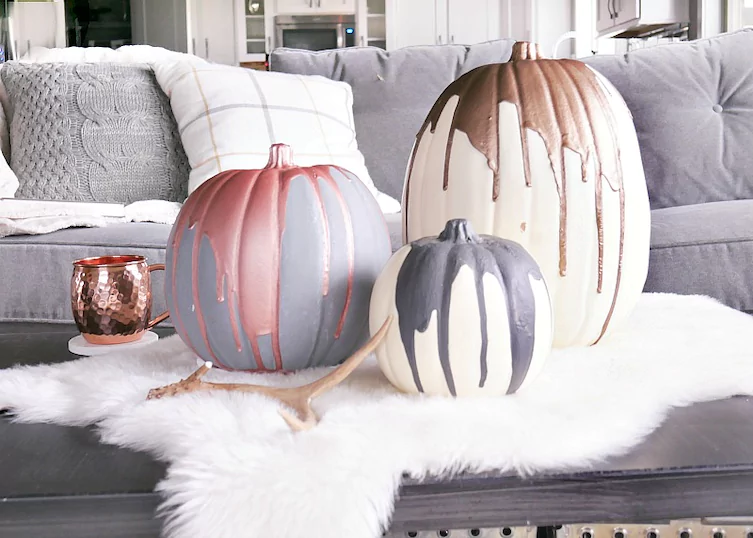 13. Owl Pumpkins
Whoo's gonna disagree with me when I say that these owl pumpkins are so creative?!
All puns aside, gather up some pinecones and sticks and you can make these, too!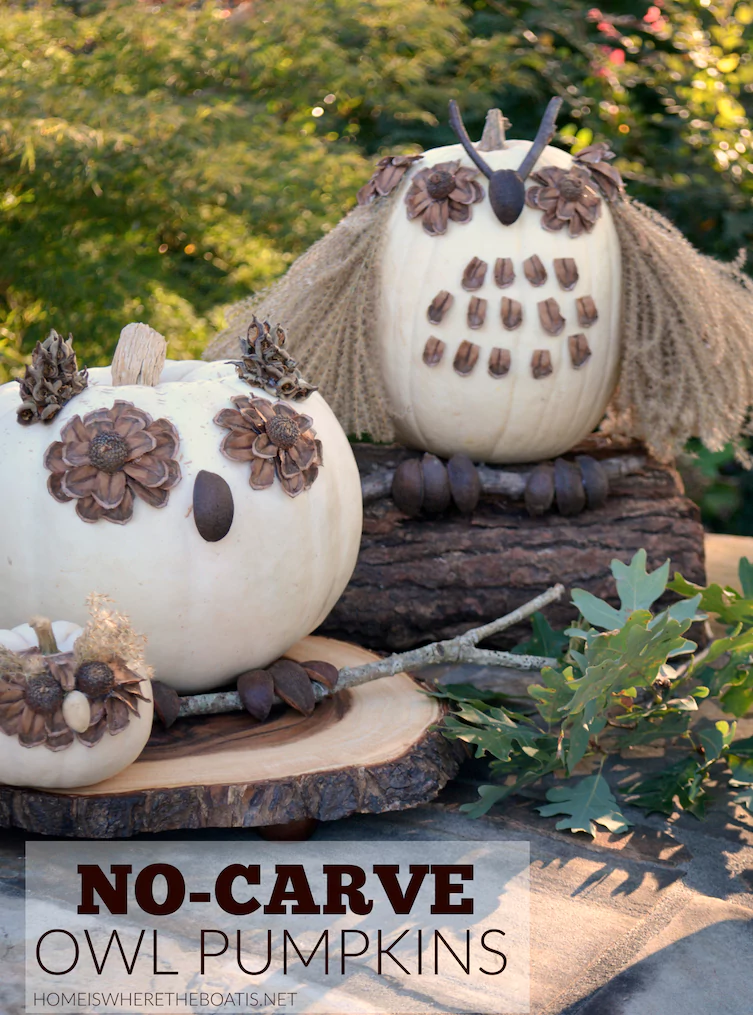 14. Emoji Pumpkins
These emoji pumpkins are going to be a must at my house this year. With the release of The Emoji Movie, my kids have gone emoji crazy!
The heart eyes emoji is always a classic choice.


15. Minion Pumpkins
Go for something a little more quirky and make these lovable minion pumpkins. Kevin, Stuart, and Bob would be so proud!
We all know that one person who loves minions — make sure they know this is a thing.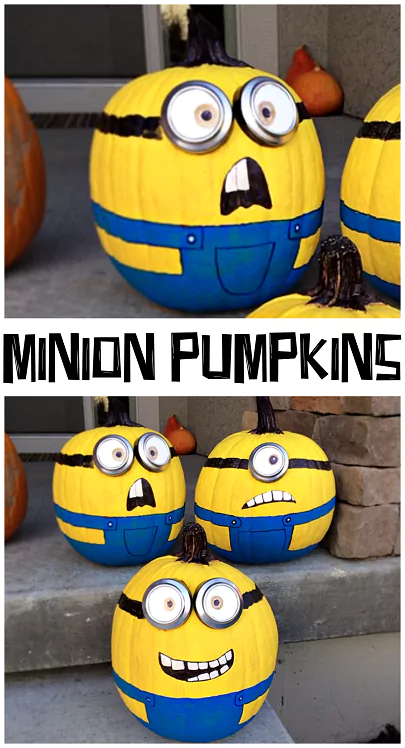 16. Corset Pumpkins
All you need to make this pretty corset pumpkin is a drill, grommets, ribbon, and some paint!
This is such a feminine, Victorian-inspired way to decorate with pumpkins this fall.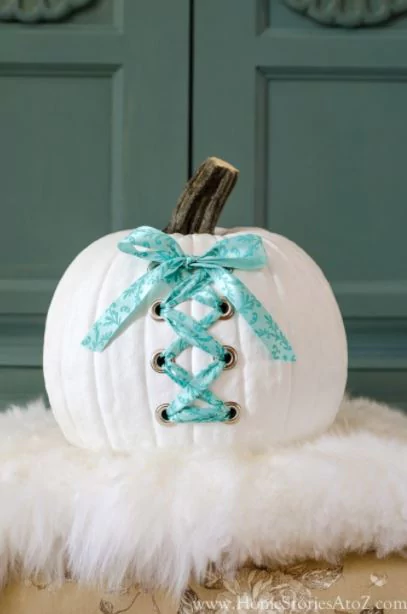 17. Floral Pumpkins
The onset of fall doesn't mean that leaves and straw have to replace floral decor. Try painting some pretty, pastel-colored flowers onto a dark base.
A metallic gold stem is the perfect finishing touch!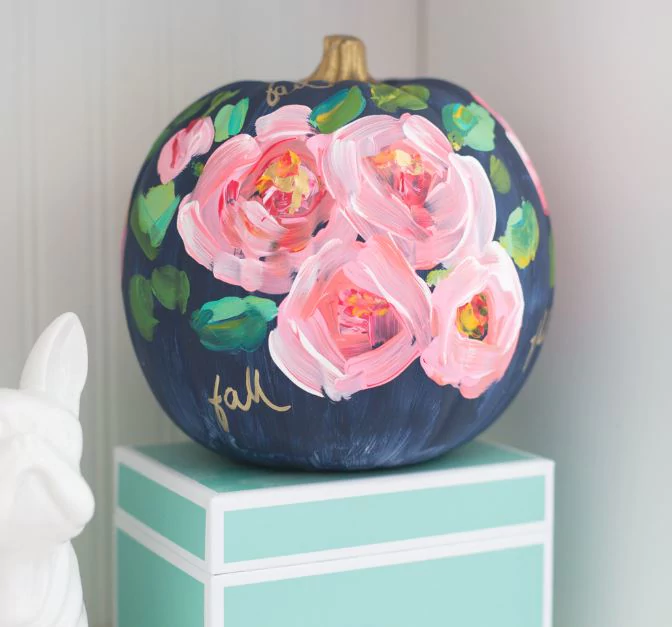 18. Glitter Stem Pumpkins
These DIY pumpkins are so glamorous yet so simple. Just paint the pumpkin whatever color you like, apply glue to the stem, and shake loads of glitter over top of the glue.
You'll be (literally) golden!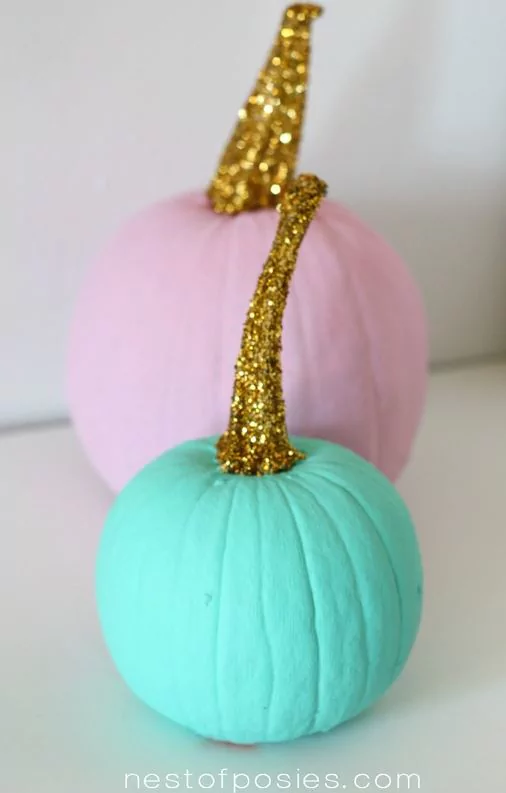 19. Cinderella-Inspired Pumpkins
Any Disney fan will lose it over this glittery pumpkin inspired by Cinderella's dress and carriage.
If you have an eye for detail, this whimsical DIY is definitely for you!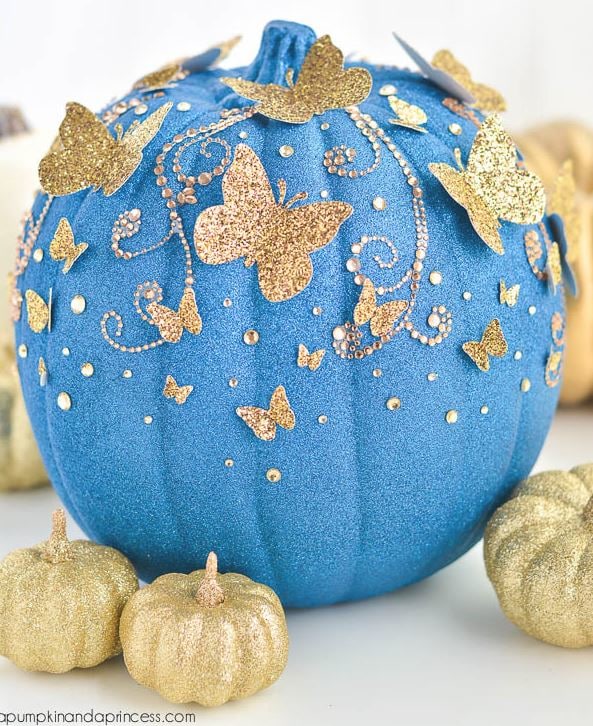 20. Stranger Things Pumpkins
If you're a Stranger Things fan, you already know that the show's second season is premiering over Halloween weekend.
This DIY pumpkin is eerie, easy, and the perfect way to welcome back the show!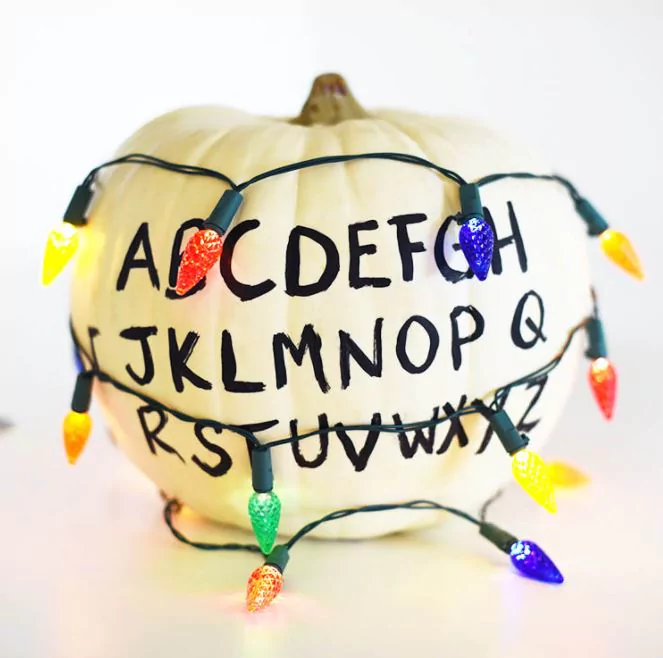 21. Doughnut Pumpkins
Are you a lover of sweet treats? Well, these cute pumpkins are almost good enough to eat!
All you need for this simple DIY is some acrylic paint and a jar of sprinkles.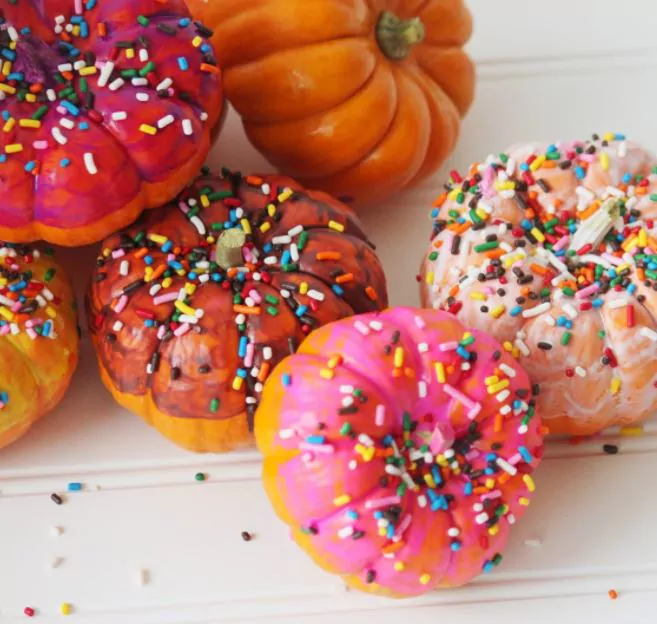 22. Dotted Pumpkins
To create this adorably dotted pumpkin, choose a white pumpkin (or paint an orange one white).
Next, just apply tiny dots of paint in whatever patterns you like! So cute.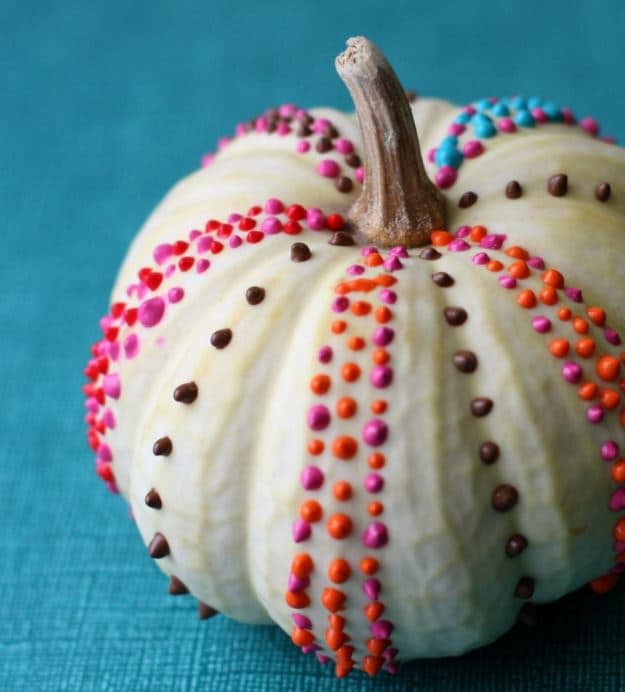 23. Day Of The Dead Pumpkins
A sugar skull painted pumpkin is the perfect combination of creepy and cute. There are so many color and design options for this DIY.
The white background makes colors pop!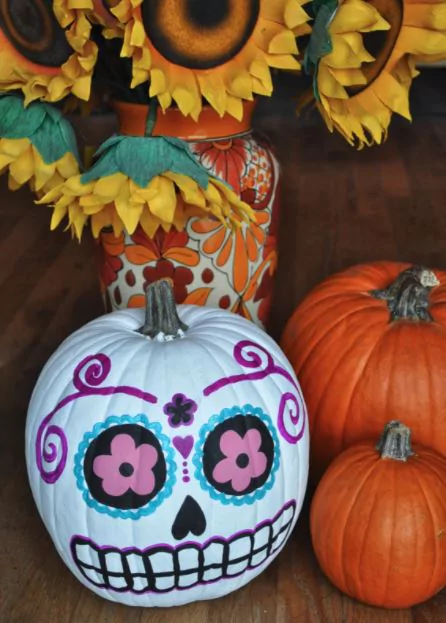 So, now that you have seen this list, what will you be doing this fall?
Carve or no carve? That is the real question. Just in case, you better pin this list!
Liked video this with your friends and let's get them excited for fall!