Have you ever dreamed of hitting the open road and living life without the mundane responsibilities? Then you're going to be jealous of Vancouver couple Diane and Pascal Pillon. Instead of just dreaming about it, they're making it happen. And with their tiny trailer they've nicknamed 'the Droplet,' it is easier to do than you would think.
After putting hard work into building this awesome trailer, they were able to hit the road. And instead of needing to fork out money stay at motels and hotels along the way, the Pillons have a place to sleep at night and go about their business without needing anyone else's permission.
The trailer weighs just 950 pounds. Nevertheless, the Pillons managed to squeeze a queen-sized bed and a kitchen with all the necessary appliance into the micro-space.
The mobile home also has large windows. But don't worry. These are tinted for privacy so not just anybody can peer into their tiny home. Instead of detracting from their privacy, the windows help these trailer owners feel closer to the natural surroundings they frequent while on their travels.
Although the trailer is small, the Pillons can cook a hot meal and get a good night's sleep. It is the perfect on-the-road home to help them get where they want to go and prevent them from having to leave before they're ready. Just park the trailer, and you're prepared to enjoy exactly where fate has brought you.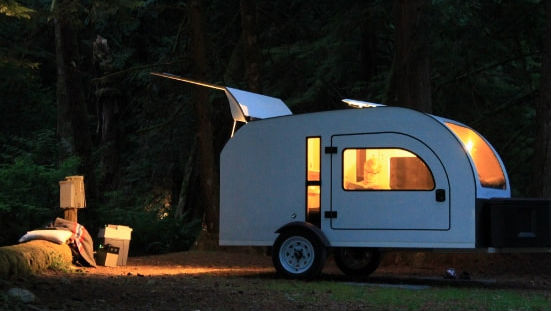 While you might think the minuscule amount of square footage would prevent them from living comfortably, you would actually be incorrect. The couple is blessed with a fridge to keep their food and drinks chilled, a cooking stove to make a hot meal, and even a sink to wash dishes and clean things.
If you ever wanted to feel close to nature, the Droplet is the way to go. With the large windows, you'll feel like you're sleeping under the stars – without the annoying buzz of mosquitoes in your ears.
On either side of their queen-sized bed, the Pillons have reading lamps. They enjoy connecting with their books while out on vacation – as I would love to do as well.
And because the trailer weighs fewer than 1,000 pounds, it is not a massive drain on gas efficiency. As they pull it behind their vehicle, it is not slowing them down or causing them to have to refill the tank every other day.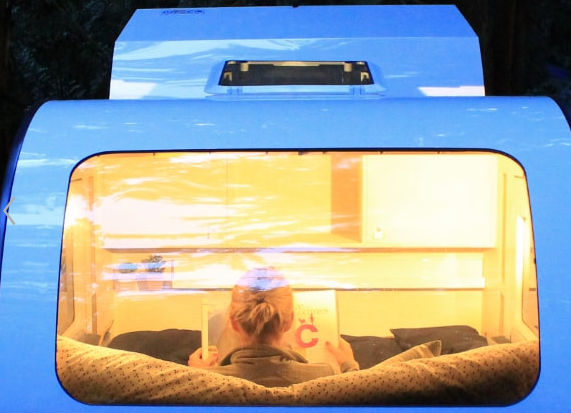 Mr. Pillon said: "We wanted a trailer you could hang out in. We also wanted to feel outside. The big windows are a tribute to nature. At 950 lbs, it can be towed by most small cars. The construction is borrowed from the yachting industry where strength and weight are key. We made the doors big. We worked on the ergonomics of entry and exit and came up with these large doors. There is no need to duck into the trailer. And we are currently working to make it wheelchair accessible."
We have to agree. This trailer looks awesome and affordable!