"For me, space travel was never something that was out of the question," Abigail Harrison tells Inverse. "It was always a reasonable job option, so that really influenced my wanting to be an astronaut as a kid."
Harrison is nonchalant about her dreams of wanting to be an astronaut, but she's painting a picture that's a bit misleading: Harrison features in the Netflix documentary, The Mars Generation, and — by the way — is a college sophomore who knows a little bit whole lot more about space than the average college sophomore.
She didn't just dream in some general way of going to space. If you asked 8-year-old Harrison what she wanted to be when she grew up, she knew exactly what she wanted to be: an astronavigator, a job she'd read about in a science fiction story. When she realized that this was, well, fiction, she was undeterred.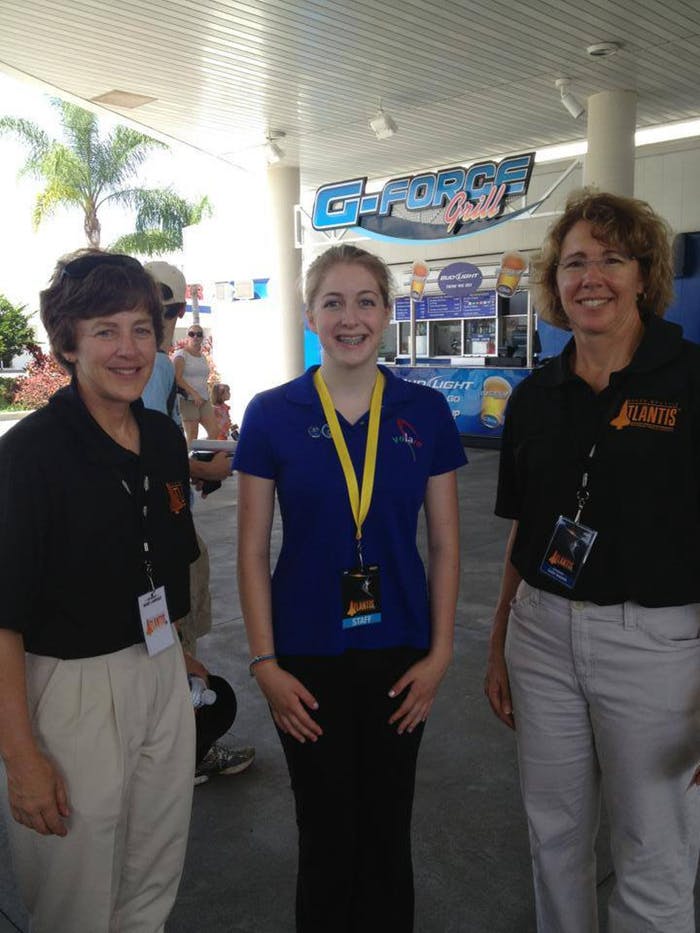 Abby Harrison stands in front of the shell for NASA's Orion spacecraft. Orion will one day take humans to Mars.
"As I learned more about the space program that we currently had, that astronavigator wasn't quite a real job yet, I settled for astronaut instead," she says. And not just any astronaut; Astronaut Abby, as she's referred to, decided that she would be heading to Mars.
Currently, Harrison is an undergraduate at Wellesley College, double majoring in astrobiology and Russian. "I hope to be an astrobiologist on the mission to Mars," Harrison says. "I hope to be able to contribute both to life sciences onboard the spacecraft on its way to Mars — taking care of things such as hydroponic growing systems or crew health — and also looking for possible life or the potential for life on the Martian surface once we land."
abby, wendy, and sandy
<!—Ad Harrison (center) stands with former astronaut Wendy Lawrence (left), who's on the advisory board of Harrison's non-profit, and astronaut Sandra Magnus (right)
Harrison firmly believes a Mars mission must happen. Beyond simply being a testament to human technological prowess, Harrison thinks a future mission will be a philosophical and emotional moment in human history.
"It's part of our nature as humans," Harrison says. "It's part of the very core of who we are to explore, to go farther, to look over the next hill, to wonder, 'What's behind that closed door?' Space exploration is just another facet of that. It's us pushing out into the unknown and trying to find out what's out there. If we ignore that, we're ignoring a key part of who we are."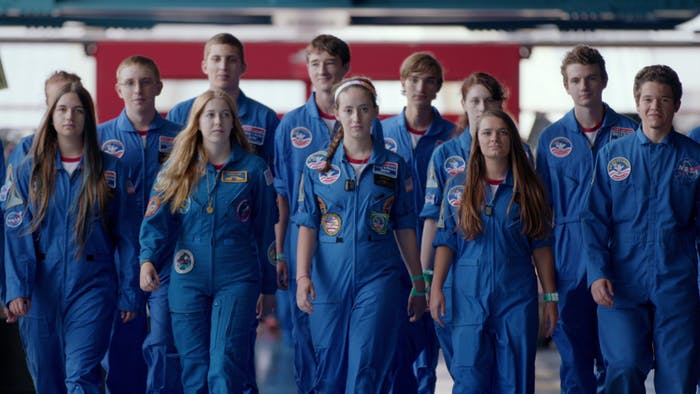 At age 18, Harrison founded a non-profit organization called The Mars Generation (which is not affiliated with the new documentary with the same name). In addition to advocating for STEM education, The Mars Generation awards Space Camp scholarships to young people who wouldn't otherwise be able to afford to go share the same life-changing experience as their peers. In the past year-and-a-half, Harrison tells Inverse, the group has awarded 20 scholarships that include travel, tuition, expenses, a stipend, and even a flight suit.
Harrison has a special spot in her heart for Space Camp — she attended as a youngster, and fondly remembers the experience as one that expanded her world immeasurably. Growing up in Minnesota, she wasn't close to any NASA facilities, so she didn't realize how many other young people shared her enthusiasm. "It was one of the first times in my life when I was surrounded by my peers, people my own age who had similar interests," she says.
In addition to the camaraderie, she loved living like an astronaut. "It's really, really cool to wake up in a metal cylinder every morning — which is what the dorms are — and then get dressed in a flight suit, and go hop in a space shuttle simulator, and spend the morning learning how to fly that," she says. "Every day is something crazy and new, from the moment you wake up to the moment you go to sleep."
space camp kids
Abigail Harrison (front, second from left) appears with her fellow Space Camp alumni in the Netflix documentary 'The Mars Generation.'
While Harrison is driven and motivated to go to space, she also recognizes that the danger of being seriously hurt — even killed — is real. To her, what she stands to lose as an individual is insignificant compared to what humanity stands to gain.
"To me, the discoveries that we can make and the way that we can change the future by sending humans to another planet is more worthwhile than the possibility of harm to myself," she says matter-of-factly. "It's not a deterrent, in my opinion."
Watch Abigail Harrison and her fellow Space Camp alumni in The Mars Generation on Netflix.
Photos via Abigail Harrison, Courtesy of Netflix
Peter is a writer living in New York. He is preoccupied with Star Wars and memes, but he writes about climate change, chatbots and ants. You may have seen his work in Popular Science, New Scientist and Motherboard.