Two garbagemen, Brandon Olsen and Taylor Fritz always looked forward to going to the Evenson family house.
Angie Evenson's three daughters would gather by the window every Thursday and wait excitedly for the men. When they came, the girls would wave and the men happily waved back.
This had been going on for over a year until an earth-shattering news changed everything.
3-year-old Rosie was diagnosed with stage four kidney cancer and the family's schedule had to change as they now had a lot more challenges to go through.
One day, Brandon and Taylor received a note from the Evensons that broke their hearts. In it, the family talked about Rosie's condition. They explained that some of her treatments had been scheduled for Thursdays and this meant the girls might not be out to say hello to the men like they usually did.
The men were very upset about hearing this news and knew they had to so something to help the struggling family.
Brandon said in an interview:
"This family forever changed my life — I read the note and was in tears. Being a father, it's scary to think, 'What if it were me in that situation?'"
Both men approached their boss at Hometown Sanitation and asked if they could give the family one of the employee benefits they receive which was free trash pick-up service for a year.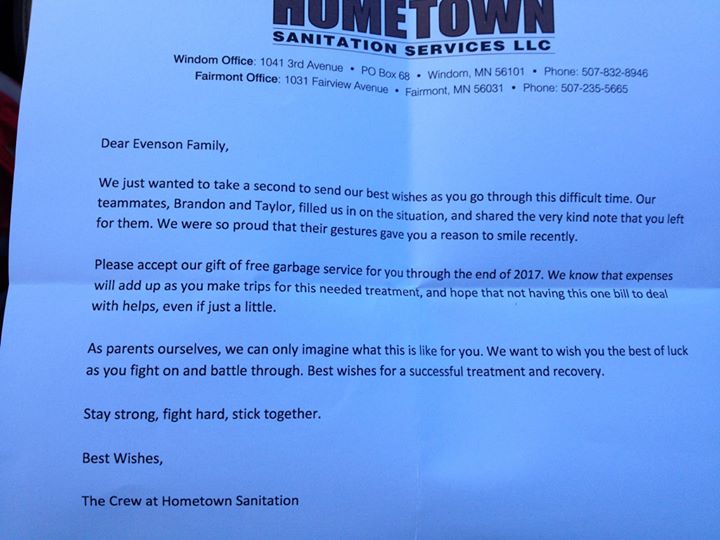 A few days later, a letter was delivered to the Evenson family which read:
"Please accept our gift of free garbage service for you through the end of 2017. We know that expenses will add up as you make trips for this needed treatment, and hope that not having this one bill to deal with helps, even if just a little. As parents ourselves, we can only imagine what this is like for you. We want to wish you the best of luck as you fight on and battle through. Best wishes for a successful treatment and recovery. Stay strong, fight hard, stick together."
The Evenson family was very grateful for this kindness. It put a smile on their faces as they faced a very challenging time.