This slow cooker vintage ham and potato dinner is a one-pot wonder. With only 15 minutes of prep time, you don't need to stress when it comes to making this hearty and full-flavored meal. With smoky ham, potatoes, melted cheese and green beans all cooked in your slow cooker, you've got a delicious, complete meal that's a cinch to clean up!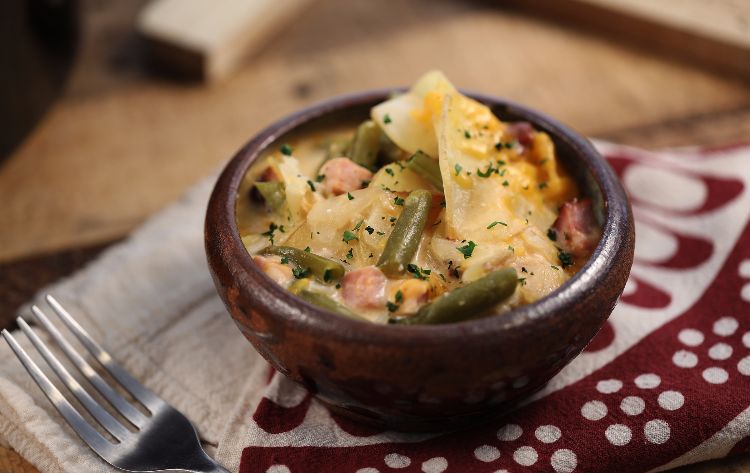 You first need to add chicken broth and milk into your slow cooker. Whisk in your flour as the thickener to your sauce. Mix in the rest of your ingredients and slow cook away. Be sure to give it a quick stir after about 30 minutes to make sure it doesn't scorch. Finally, an extra sprinkle of cheese near the end of cooking makes this dish even more mouthwatering!
SLOW COOKER VINTAGE HAM AND POTATOES
8 15 MINUTES 3 HOURS, 15 MINUTES 3 HOURS, 30 MINUTES
2 cups low-sodium chicken broth
½ cup whole milk
4 tablespoons all-purpose flour
4 cups medium-diced ham
1 cup medium-diced yellow onion
3 cups thinly sliced (⅓ inch) Yukon Gold potatoes
1 tablespoon minced garlic
3 cups shredded cheddar cheese
6 tablespoons cream cheese
3 cups string beans, cut into 1-inch pieces
1 teaspoon salt
Direcnions:
Pour chicken broth and milk into a 6-quart slow cooker.
Whisk in flour until there are no lumps.
Stir in ham, onions, potatoes, garlic, 2 cups cheddar cheese, cream cheese, string beans and salt.
Cook on high for 3 hours.
Gently mix well. Sprinkle remaining 1 cup cheddar cheese on top. Cook for 15 more minutes to melt cheese.
Pro tip: If you are in a rush, replace the chicken broth, milk and first two cups of cheddar cheese with a can of cream of chicken soup and a can of cheddar cheese soup.
Note: All slow cookers are a little bit different in temperature and calibration. This recipe was tested in Cooktop Cove's Test Kitchen using this slow cooker, which is available for purchase here.
Disclosure: This post contains affiliate links, which help support our website.