Derek Madsen was a 10-year-old boy from Sacramento, California and his story is heartbreaking. It began in the summer of 2005 when he was diagnosed with neuroblastoma, a rare form of cancer that mostly affects children. Derek immediately started treatment — he and his mother Cindy French were determined to beat the deadly disease.
The photographer Renée C. Byer offered to chronicle this battle and the family agreed. The result of her work is a Pulitzer Prize-winning series of powerful and touching images that capture an incredible range or emotions — the desperation, happiness, hope and sadness are all palpable. After scrolling down (through tears, if you're anything like me), you might even find that the pictures inspire you to support research to help kids like Derek…
Here we see Cindy taking Derek for a spin down the hall of the UC Davis Medical Center. They were waiting to have Derek's bone marrow tested to see if he might be eligible for a transplant. This little «joy ride» was a much-needed distraction from the anxious waiting.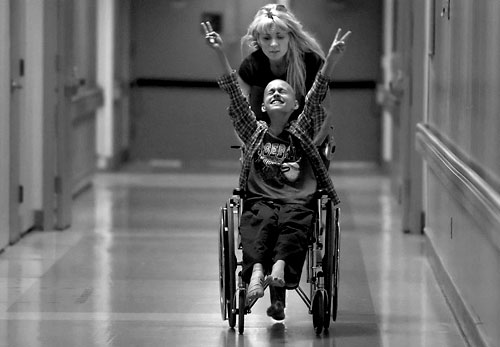 After the bone marrow extraction, Cindy tried to comfort her son. The procedure is extremely painful and when Derek woke up after the operation, he was screaming and writhing in pain.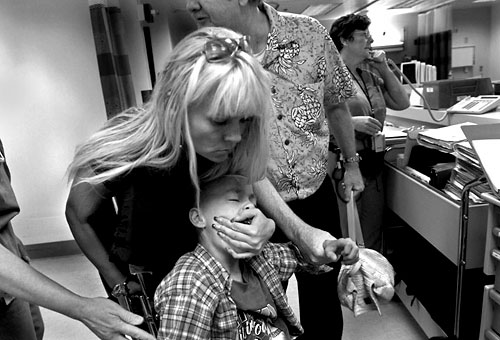 In a quiet moment, Derek received a gentle massage from his mother. The cancer had attacked his organs and bones and he needed round-the-clock care. Cindy had already given up her beauty salon so she could be there for Derek full-time. «I'm going to do whatever it takes to make him happy, to see him smile,» said Cindy.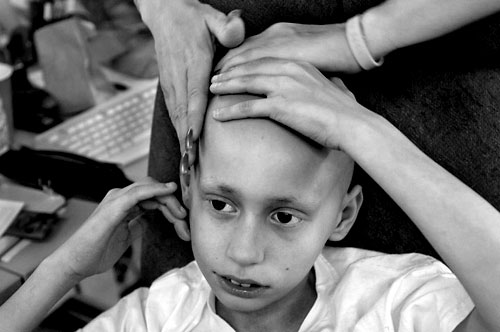 Here Cindy is giving her son a hug after they found out that Derek would need an operation to remove a tumor from his abdomen.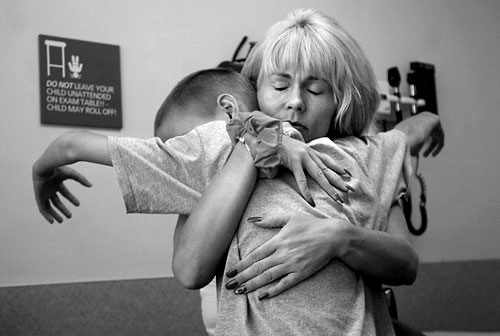 But there were also happy moments. Here we see Derek playing with his brother Micah and his friend RJ. This was in a hotel in Tahoe after they were invited to meet Chris Webber, a famous basketball player. Cindy had written to him and when he agreed to meet them, she had organized the trip. It was the first time Derek had slept in a real hotel.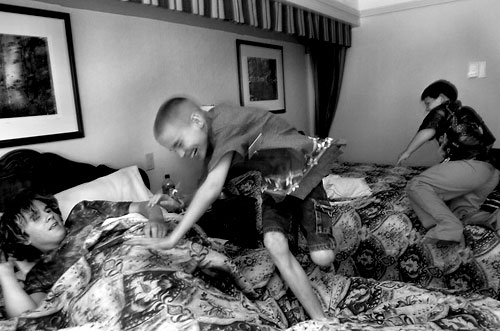 Derek loved to keep his mom on her toes by performing balancing acts. He also hated hospitals. His mother didn't have an easy time getting him to come down and go to the building where he would be prepared for an operation.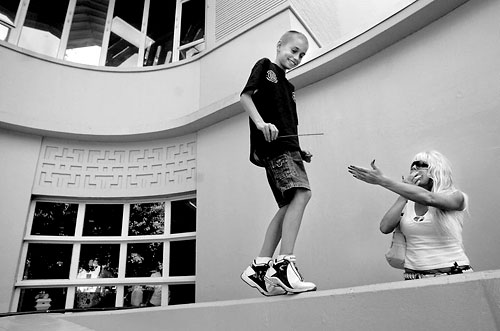 Cindy watches anxiously as the hospital staff prepare her son for the operation. She was allowed to stay while they administered the anesthesia, but had to leave when the operation began.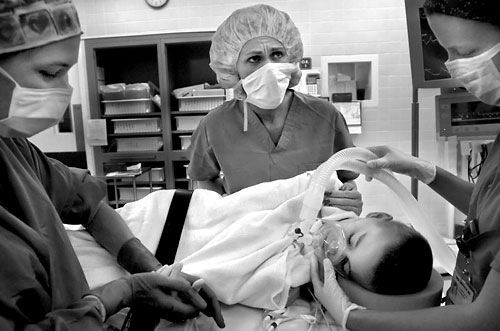 Derek's brother Micah offered support while Derek was being prepared for radiation treatment. Micah was there for his little brother and helped to give him courage.
At times Derek couldn't hold it in any longer and broke down in tears. Here they were in the examining room of the hospital. Cindy and Dr. William Hall tried to persuade Derek to accept more treatment that would reduce the tumor and relieve his pain. Cindy was desperate, «Derek, you might not make it if you don't do this,» she told him. Derek's answer: «I don't care! …Take me home. … I'm done, Mom! Are you listening to me? I'm done!»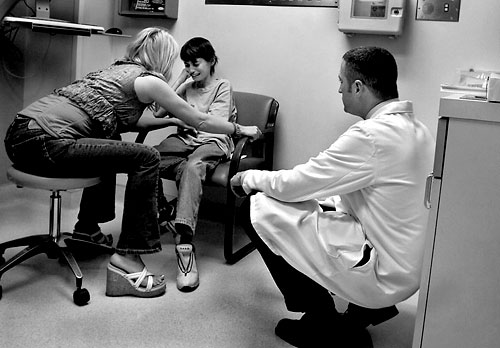 Then Cindy made a deal with Derek — she allowed him to sit on her lap and drive the car. In return, he agreed to undergo further treatment. A few hours after this photo was taken, one of the hospital staff contacted Cindy to let her know that Derek did not have long to live.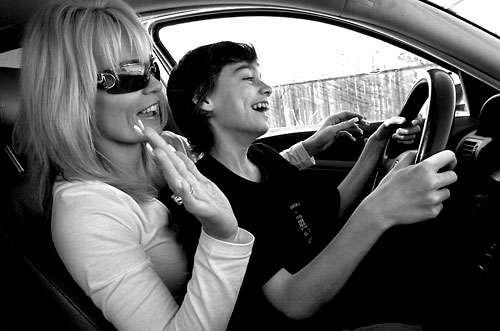 The cancer spread aggressively — the tumor in Derek's head left him with a black eye. To cheer him up, the servers at his favorite restaurant wrote him a special note and hung it on his wall.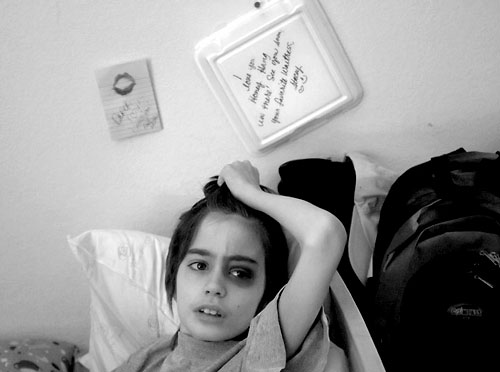 Cindy and her best friend Kelly Whysong console each other. Derek didn't have much time left and was getting weaker by the day. Cindy wrote him a letter to tell him how proud she was that he had fought so bravely. She read the letter to him repeatedly, hoping that he would understand.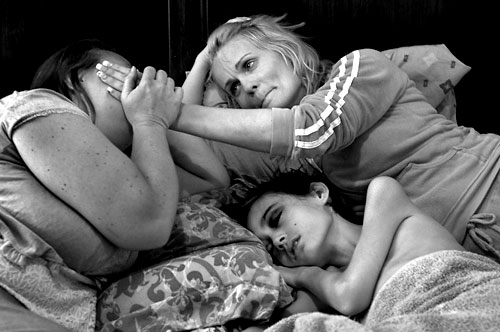 On April 28, 2006, Cindy picked out the clothes that Derek would wear at his funeral. She was wearing smiley stickers that the hospital staff had given her.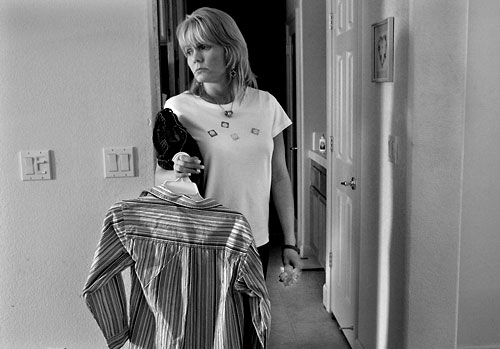 In this photo we see Derek using every bit of strength he had left to take a few steps. His stomach is so bloated from the tumor that his pants no longer fit. Another tumor in his head had affected his sight and balance.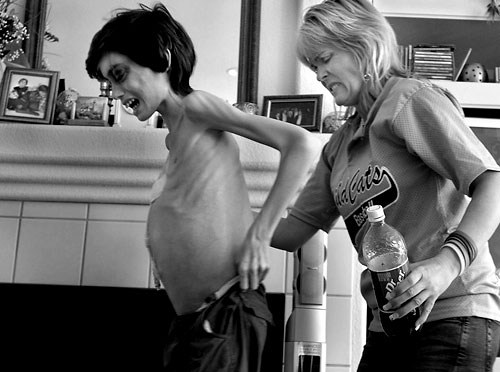 Derek giving his mother a loving kiss during a benefit event. He was too weak to walk.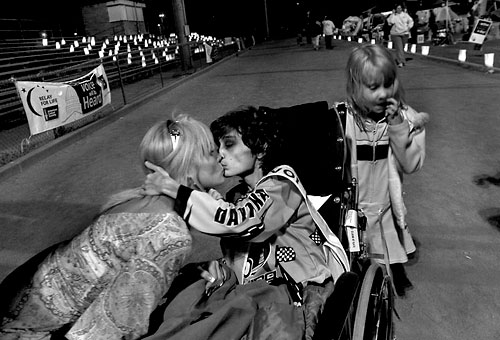 At this point Cindy spent nearly 24 hours a day at Derek's side. This photo was taken on May 8, 2006. Derek was taking very strong medication and could hardly speak. He had almost no strength left. Cindy was also exhausted but insisted on being with Derek at every moment.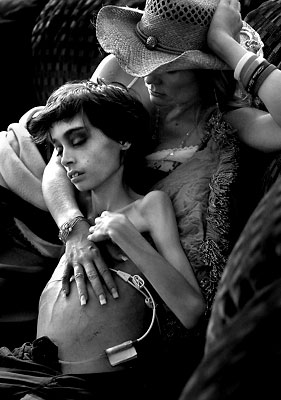 On May 10, 2006, the time had come. Cindy fought back tears as she cleaned Derek's catheter. A short while later, his caregiver Sue Kirkpatrick would give the eleven-year-old boy a sedative that would allow him to die peacefully. Cindy knew that she had done all she could.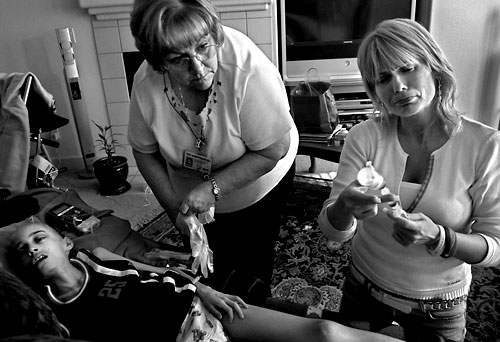 Surrounded by loved ones, Cindy said her final farewell to her son Derek. She kissed him softly and sang his favorite song.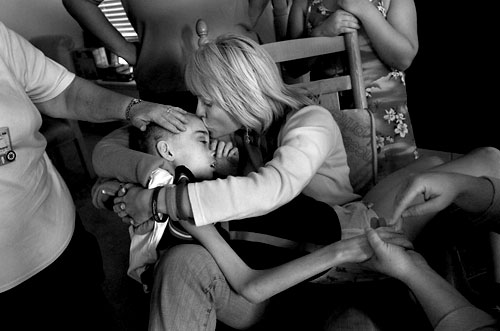 At the funeral, Cindy led the way while her son Micah and some of Derek's friends carried the coffin. At his graveside, Cindy said these words: «I will forever carry your memory in my heart and remind others to give of their time, energy and support to other families like ours.» Derek was laid to rest on May 19, 2006 in Mount Vernon Park.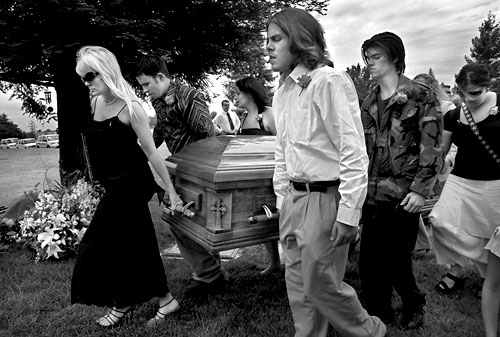 Very powerful images. Cindy and her family went through a terrible time, but it's amazing to see how bravely Derek fought for his life. It's also heartwarming to see that even in our darkest times, it is still possible to find moments of happiness. And it's the memories of these moments that carry us through.