If you keep up with LGBTQ news or were following the beautiful and hopeful stories coming out of this year's Pride month, then you may have heard the story about the British police officer, Phil Adlem, who popped the question at London's Pride parade. While his proposal was accepted, Adlem learned an important lesson from proposing in front of thousands of revelers. As a result, he has a warning for his fellow LGBTQ community members.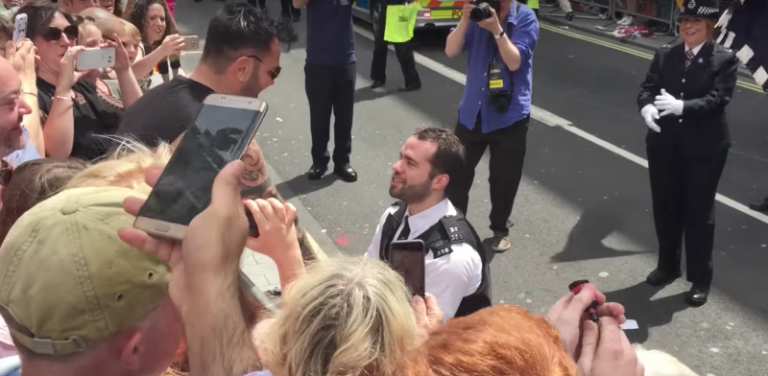 Adlem's proposal was viewed as a symbol of hope for the community as it showed that love and acceptance could prevail. When he got down on one knee and his proposal was accepted, thousands of fellow LGBTQ people and allies were more than touched at the display. The happy couple was congratulated by many including London's Mayor, Sadiq Khan.
But, unfortunately, the support was quickly drowned out by an influx of online abuse. In a piece he wrote for The Guardian, Adlem says that his happiness did not last long. Some of the messages included things like "Both should be hanged till death", "Don't blame ISIS if they strike them!", and "Absolutely disgusting." On top of that, one of Adlem's coworkers had such a hostile reaction towards his proposal that it made him wish he "had never done it."
According to Adlem, there were countless more messages and some even came equipped with threats of physical harm. While this would be disconcerting to anyone receiving these messages, Adlem has suffered physical violence at the hands of homophobia before. While celebrating his 18th birthday, Adlem was brutally attacked by three men who dragged him down a narrow alleyway. He was severely beaten and unable to defend himself.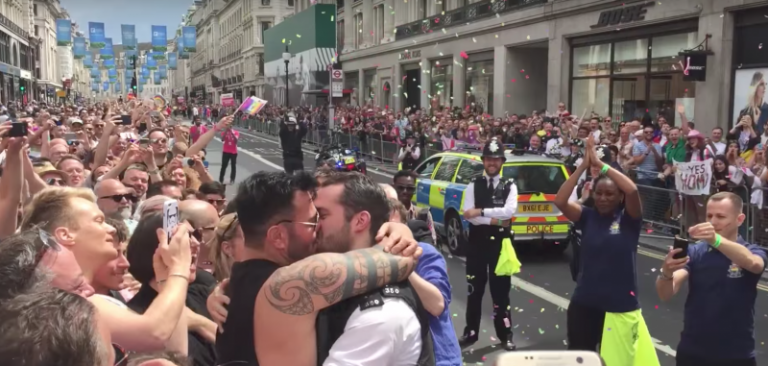 And now, one of Adlem's most important, positive life moments has been spoiled by homophobia as well. Nevertheless, Adlem is determined to remain positive. In his piece for The Guardian he writes about his own luck; how lucky he is to be alive in an era where he can enjoy being a member of the police service as an openly gay man. "I have previous generations to thank for that," he writes.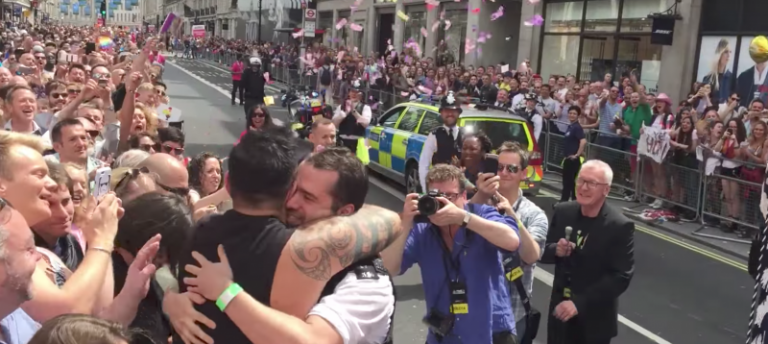 Adlem recognizes that he is privileged to live in a country where his sexuality is recognized and respected by many, but he also warns others against complacency and falling into the falsehood that homophobia is dead. Adlem's situation is a reminder that even though things are getting better, homophobia is still alive and it is still dangerous.
"The overt and continuous support from people outside our community is vital to protecting our rights from an angry backlash by people who consider themselves to be the shunned 'silent majority,'" Adlem writes. "For every person who wants to attend Pride, there is a reason why it is still important." His powerful words serve as a reminder that despite celebrating those we love in the LGBTQ community, things aren't always all that simple.