Public transportation is for everyone. Buses, trains, subways, and other public transportation are made for all people. Having a disability should not restrict one from using public transportation.
However, a deaf woman was forced to sit on the floor on the train.
Lisa Baldock boarded the CrossCountry service. She had to travel for three hours. At the age of three, she was diagnosed with a sensorineural hearing loss because of the damage to the sensitive inhair cells.
As she needed to take the train, she booked the train ticket and a special assistance beforehand. However, she couldn't get the seat because the seats were full.
Lisa got to the platform with her hearing dog Inca but she was refused to have a seat. Even though she booked the special assistant ticket, she couldn't get a seat. She was left "stranded" on board the train. The train guard forced her to sit on the floor because of her hearing dog.
Her hearing dog, Inca has been keeping her safe from danger for years so Lisa always needs him and that's why she booked for a special assistance seat on the train.
After she was forced to sit on the floor, she filmed herself and her dog sitting on the floor of the train. After filming it, she posted it online, and it became viral on Facebook.
In the footage, she starts by, "So here I am on a train stuck on the floor with Inca because there is just nowhere for us to sit."
She then continues, "Stranded. Tried talking to the guard, tried being reasonable but they just wouldn't listen.
'And it's not just me. There us a poor lady stuck with a pram left standing. Disgusted is not the word."
The camera pans round and shows a young woman standing in a doorway with her stroller.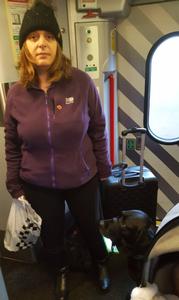 Sharing it online, she wrote: "Guards need to understand we need extra leg room for dogs so people don't trip over them.
'What's upset me more is that I booked the assistance."
Lisa was left without a seat as another passenger was sitting in the one she had reserved.
In response to a comment on her Facebook page, she said "the guard refused to move them" and there were no other seats available.
She wrote, "I got on the train and had booked a seat for me and Inca and someone was sitting in my seat."
In a comment on her Facebook post, she said she got a seat after a new guard got on the train for the next shift, but said she was planning to lodge a complaint with the company.
She said in the interview with the Mirror, "The guards need educating. It's not the first time either I plan to be in touch to talk to CrossCountry trains about this."
A spokesperson for the train firm said,
"Obviously this should not have been her experience traveling with us.
The Facebook post says she had booked assistance, so she should have been helped on board the train and taken to a reserved seat.
We would ask her to get in touch with us as soon as possible so that we can apologize for the discomfort on her journey and investigate what went wrong."
What do you think of the attitude of the guard and the train company? Shouldn't Lisa be treated differently? Please tell us what you think in the comment section below.
And Liked Video with your friends on Facebook if you think Lisa was treated unfairly!